HUHS boys' soccer starts playoffs on the right cleat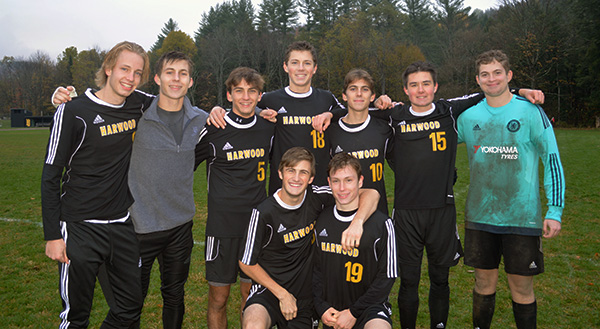 Harwood 7, GMVS 1
On a rainy afternoon on the lower playing fields of Harwood, the varsity boys' soccer team took on neighboring rivals Green Mountain Valley School in the championship first round.
The October 23 game started off an even match, as the scoreboard remained unchanged, save for the running time until the 18th minute.
Both Harwood and GMVS used the width of the field to their advantage, using back passes to switch the field and create space for opportunities. The rainy weather did not hamper the players' speed, as the wet ground made it easier for players to slide tackle on the defense.
The first goal came from Harwood senior Will Lapointe, his first of three, assisted by fellow senior Ely Kalkstein. Less than two minutes later Harwood scored again on a penalty shot by senior Wyatt Adams, the score in Harwood's favor 2-0 going into intermission.
With Harwood on the board, the rest of the team found their groove, quickly getting the ball up the field with connecting passes. Harwood's fast feet worked their magic as their dodging and dribbling skills left their opponents standing still as Harwood would maneuver around two or three defensemen to deliver a quick across-the-crease pass.
The third goal of the game came from Lapointe, assisted by Charlie Zschau. Zschau would go on to score minutes later with help from sophomore Hayden Adams.
Harwood's passing and field vision was insurmountable, as they worked their way up, across and over the field. Using their speed as a main weapon to win battles to the ball, their field communication and timed passing proved to be their strongest card.
Finally getting some action in Harwood's defensive zone, Max Hill, who had four saves on the game, took on a shot from GMVS and was able to tip the ball up over the net to keep GMVS scoreless.
Picking back up their momentum, Zschau scored the fifth goal of the game, assisted by Lapointe, as the duo would feed each other again minutes later, this time Zschau helping Lapointe.
Junior goalkeeper Ollie Hammond was put in the game with just over nine minutes of playing time left. At 4:14 remaining in the second half, Harwood leading 6-0, fast-breaking forward Liam Laidlaw broke past the defense and shot one in against the GMVS goaltender making the score 7-0.
The final minutes ticking down, GMVS was able to bring the ball up the field and find their way to the back of the net, scoring with 3:24 left in playing time. The game finished 7-1 in the Highlanders' favor, as Harwood (10-0-1) will next play the eighth seed, Milton (5-7-2), on Friday, October 26, at 3 p.m. at Harwood.