This Week in Harwood sports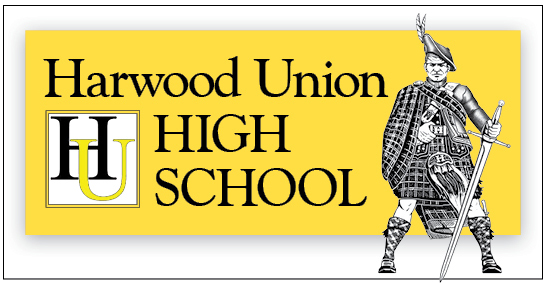 GOLF
Harwood golf traveled away for a match at the Stowe Country Club on Thursday, September 20 to tee off against Stowe, Hazen, Bellcate and Lakes Region High School.
Both Stowe Raiders and the Highlanders teams brought six golfers to compete, Stowe coming out on top with a course score of 155.
Harwood's golfers with their individual scores totaled a close second on the day with 164. Aiden Melville led the team once again with a score of 37, for both individual and team score. Jon Honeywell had a 42 individual, 39 team score. Nate Honeywell scored 39 individual and 42 team score. Liam Guyette ended with 46 overall. Jacob Green had a 53 individual, Zak Wing ended with a 62 individual.
Head coach Brian McCarthy commented on his players and the match, "I am very happy with the way the boys are progressing, especially Liam Guyette and Jacob Green. Liam shot a 46, his best score this season. With these two young golfers joining Aidan Melville, Nate and Jon Honeywell, we are preparing for post season play."
Lakes Region came in third with a score of 227, both Hazen and Bellcate had one golfer representing them, Hazens' Arron Molleur with 46 and Bellcates' Keith Ward with 57.
When asked what the Harwood team would be working on for the rest of the season, McCarthy commented, "At this point of the season, our primary work is on keeping the ball in play and minimizing mistakes, with good course management."
On September 24, Harwood hosted a match at the Country Club of Vermont in Waterbury. The Highlanders came out victorious against Montpelier and Enosburg.
Final scores were Harwood 163, Montpelier 181 and Enosburg 245.
Jon Honeywell was the medalist for the match from Harwood who shot a 33 on the day while his teammates, Aidean Melville shot a 37, Nate Honeywell had a 38 and Liam Guyette ended with 55.
Harwood golf will next play September 27, at Ryder Brooke Golf Club at 3:30 p.m.
GIRLS' SOCCER
Harwood girls' varsity soccer faced off against Peoples Academy on Friday, September 21, on their home field in what would be a barn burner of a game.
After a scoreless regular game, the match went into a double overtime session to see who would shoot the ball in the back of the net first. Peoples Academy was able to get it past the Harwood team with four minutes remaining in the second overtime to win 1-0.
Head coach Mike Vasseur commented that the team will be working on finishing on plays and collective ball movement. "We fell into playing Peoples' game, and lost our focus on the ball control and possession," said Vasseur.
Vasseur commented on how the team is doing overall thus far in the season, "The team is playing well overall but we will need to go to goal with more conviction and as a team."
The girls' team will look to come back off this loss and prepare to face Stowe High School away on Wednesday, September 26, after The Valley Reporter goes to press.
The varsity girls' soccer team would also like to remind everyone that the Mary Harris Youth Day will be Wednesday, October 3, at 4 p.m. This is a time change – a half hour earlier.
VOLLEYBALL
The Harwood varsity and junior varsity volley ball teams played away at Burlington on September 24, where the junior varsity team would gain its first win on the season.
Harwood varsity beat Burlington High School in 5 sets, 23-25, 25-15, 25-10, 17-25 and 15-9.
The strong serving from Cassie James, Mia Cooper, Morgan Sheltra and Kate McCracken showed to be a strong backbone to the team who worked together to win.
"Cooper continued her dominant play at the net," commented varsity coach David Stapleton. "this was not varsity's strongest match, but they showed signs of very strong offense, which we expect them to display more consistently as the year progresses," said Stapleton.
The junior varsity team also won its match against Burlington, 2 sets to 1.
FIELD HOCKEY
Harwood varsity field hockey traveled away on Saturday, September 22, for a game against rivals U-32. The game would be a close match with Harwood falling 3-2.
"We had possession of the ball for most of the first half, and then U-32 scored twice. We entered the second half and U-32 scored again making it 3-0," said head coach Katie Alexander.
Harwood trying to rally back kept up their speed and laughed efforts to gain offensive ground. Claire McGeorge was able to break through the Raiders defensive circle and dodge past defenders and goalkeeper to get Harwood on the board 3-1.
Freshman Anna Alberghini got a piece of the ball on a tipped pass from fellow player Annie Fennelly. The two-goal comeback was not enough as the time ran out leaving U-32 victorious until their next match up against the Highlanders.
This week in practice the Highlander will be working on circle play, "We worked on circle play, playing in a crowded circle for both offense and defense. We're working on continuing to increase our scoring," said Alexander.
Harwood traveled for an away game against St. Johnsbury on September 25, where Harwood would fall 1-0 after St. Johnsbury scored early in the first half.
"Our defense and goalie worked hard throughout the rest of the game to keep the ball off the goal. Defense communicated well and they were able to repeatedly clear the ball out and up the field," commented Alexander.
Harwood had a strong ball possession and was able to break the ball up the field offensively but in their efforts they could not find the back of the net.
"We'll continue working on bringing the ball up the outside of the field and maintaining possession," said Alexander. Highlanders play again on September 27, away against