Harwood defeats Colchester 2-1
Written by

Christopher Keating

Published in Sports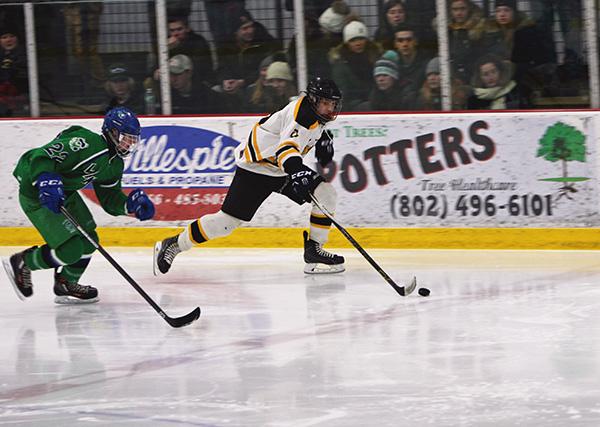 Harwood boys' hockey outlasted Colchester on Monday, January 15, to take a narrow 2-1 victory.
"I like the way we played. We can't seem to score goals, but we're playing great defense," Harwood head coach Dave Morse said.
While the Highlanders are having trouble generating offense, the team's defense is picking up the slack. Colchester was unable to score on any of their seven power plays on the night.
As for the offense, the forwards will need to net more rebounds.
"We got chances, but we didn't get to the net. … We didn't ever get a rebound shot," Woods said.
Colchester scored first after a series of rebounds left Harwood's goaltender, Ben Hodziewich, out of position. However, after that goal, the Lake Monsters struggled in their offensive zone.
"I thought we took the first five minutes off; we just kind of stood around and they were doing anything they wanted," Morse said.
After five minutes, Morse saw a strong forecheck and his team was setting up his offense, but they just didn't get rebounds.
"Sooner or later the floodgates are going to open and we're going to score five or six in a game," Morse said.