Harwood lacrosse advances to championships
Written by

Chris Keating

Published in Sports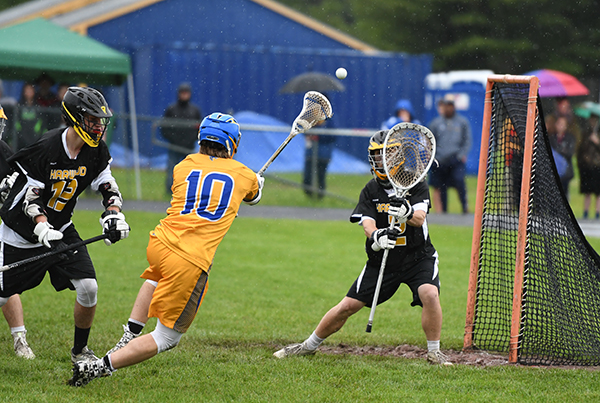 Harwood boys' lacrosse upset Milton 14-8 on Tuesday, June 6, to advance to the Vermont Division II state championships on Friday.
The Highlanders will play Stowe High School Friday, June 9, for the title.
Harwood, seeded fifth, was the underdog in Tuesday's rainy game against the top-seeded Milton Yellow Jackets. However, the two teams met just a few weeks ago on May 19 and Harwood won 7-6.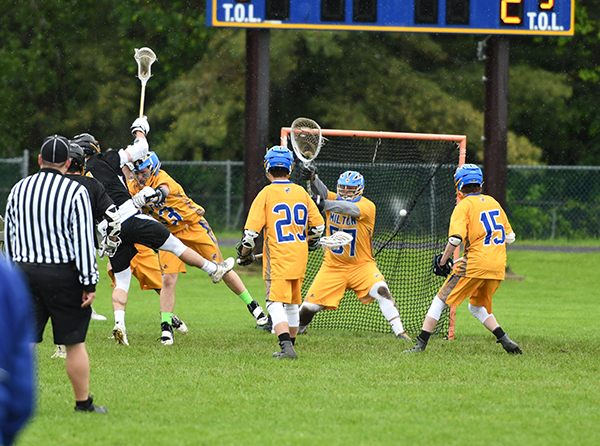 The beginning of the game had all of the makings of a nail-biter, with four lead changes in the first 10 minutes, but the suspense did not last for long. Harwood exploded with eight unanswered goals to end the first half up 10-4.
Harwood's Connor Woolley scored to put the Highlanders up by two, the first multi-lead of the game, and after that they were off with no end in sight. Woolley would end the night with five goals and an assist.
Five other Highlanders found the score sheet in the semifinal. Eli Kalkstein had three goals, Ryan Garrand accounted for two goals and four assists, Noah Williams found the back of the net twice, Sam Towne scored once and had an assist and Hunter Wimble added a goal.
Harwood coach Russ Beilke said that it was a team effort touting the fact that six different players contributed to the scoring, not to mention his goalie, Cameron Andrews, turning in another "all-star" performance.
When asked about Woolley's performance, Beilke said, "We are not a singularly focused team," pointing to the score sheet, noting how many other players contributed to the win.
As for Andrews' performance in net, "He is an all-state goalie. I said that at the beginning of the year and he is the lynchpin. He's the guy that keeps us focused and solid," Beilke said.
Andrews made eight saves throughout the game including two at a very crucial moment. In the final minutes of the game, two Highlanders' simultaneous penalties left the defense in front of the net minder very thin.
Andrews stopped a one-on-one shot from the doorstep as well as one that was whistled in from the outside to end the two-man-down situation.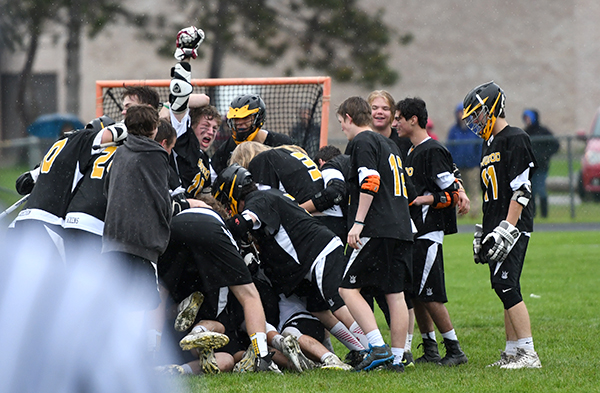 "We have come together as a team in a way that I haven't seen any other of the teams I've played on come together," Andrews said. When asked about the final minutes of the game he noted, "I can't think about anything. When I start thinking about something when I'm in the goal, that's when I start playing poorly. I just need to be in the game and let everything come to me."
Harwood played Stowe once during the regular season on May 23 in an 11-13 loss.