Sugarbush Racing Club ends season
Written by

Chris Keating

Published in Sports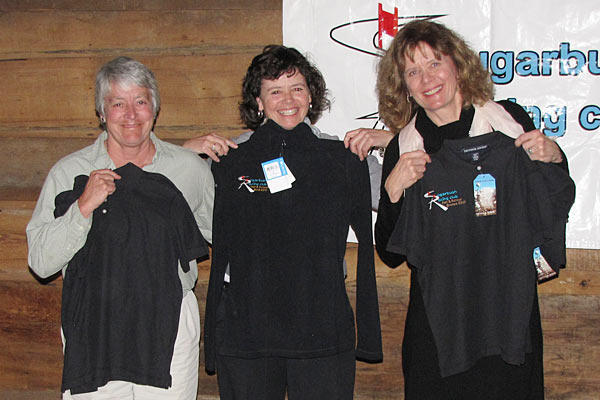 Sugarbush Racing Club (SRC) celebrated another successful season at its year-end banquet held on March 23 at the Inn at Round Barn Farm. Always a well-attended event, this year 95 members and guests enjoyed food and friends while awaiting the raffle results for prizes donated by club members and over 40 local businesses. Bucket raffle tickets raised $1,075, which together with proceeds from weekly 50-50 raffles, resulted in a record-breaking club donation of $1,985 to Vermont Adaptive Ski and Sports (VASS). This year's donation was given in memory of veteran club member Dennis Bowen, who passed away last February.
The club's election of officers was unanimous for Danielle Hampton as incoming president, Don Simonini as vice president/secretary and Dave Koepele continuing as treasurer. Much thanks and gratitude went to Wheaton Simis who served as president for two years and to Diana Edwards who has been all things organizational as vice president/secretary for the past three years.
PRESENTATION OF AWARDS
One of the evening's highlights was the presentation of awards for the best of the best in the seven handicapped races that the club was able to complete this season, much to the credit of Lauri Landau, SRC racing chair. Before announcing the race winners, Landau welcomed guests Terry Barbour, head of Sugarbush Ski and Ride School, and his wife, Tange, along with Sugarbush race director Chad Koenig and thanked them for a terrific year. As for the winners, first place in the women's F1 aka "young 'uns" age group was won by newly elected president Danielle Hampton, with Lauri Landau winning second and Anne Halvorsen in third. Janella Pennington won first place in the F2 "slightly more cured" women's class, with Cindy Carr and new member Mary Carol White coming in second and third, respectively.
In the men's races, Jula Fender took first place in the M1 "not yet dry behind the ears" age group, with two other new members, Riley Winch and James Hildebrand, coming in second and third. In the M2 "mildly older and wiser" class, Chris Ham-Ellis took first place, followed by longtime members Peter Wicklund and Mike Strojny, second and third, respectively. The M3 "getting up there but still pretty fast" class was won by Ray Bollerud in first place, Jim Cutchins in second and Mike McGuirk taking third place. The M4 octogenarian and nonagenarian "WOW!" category was led by Valley favorite Henri Borel (oldest in age and years of club membership), followed by club veteran Stan Needleman and another new member, Ned Kelley.
In the Fast and Furious division based strictly on time without Peter Wicklund's mathematical wizardry (which no one understands), Danielle Hampton took first for the ladies, followed by Elizabeth Walker and Anne Halvorsen. The men's winners included Winch in first place with Rick Duckworth and Doug Day coming in second and third. Awards were also presented for the March 9 John Wilson Memorial Race held on the Spring Fling Legends course. John's wife, Nancy, and his cousin, Bill, presented the awards to Cindy Carr and Chris Ham-Ellis for achieving the best handicapped times for the race.
At the end of the evening after the last raffle drawing, a pair of Rossignol Hero Elite skis remained unclaimed. Emcee Gil Edwards figured it was time he checked his own purchased tickets and came up with the winning number.
The next club event will be the annual golf outing in June. Those interested in learning more about the club or becoming a member can visit the website at sugarbushracingclub.com or send a note to This email address is being protected from spambots. You need JavaScript enabled to view it..