Vermont, Harwood skiers win Eastern High School title
Written by

Chris Keating

Published in Sports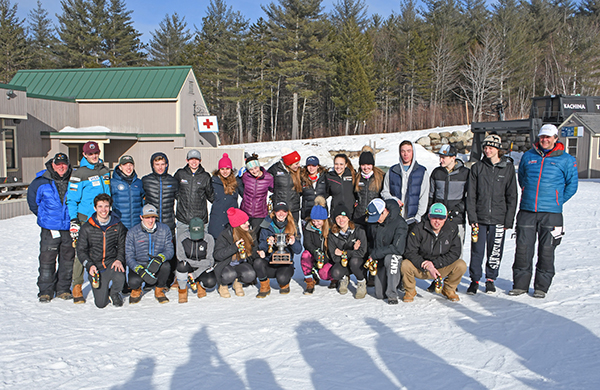 The best alpine skiers throughout Vermont came together to win the Eastern High School Championship this past weekend, including five athletes from The Valley.
Harwood's Rex Rubenstein, Noah Williams, Austin Taylor and Piper Beilke along with Rice Memorial High School's Sarah Boland all took part in the event, held on March 11 and 12 at Attitash ski area in New Hampshire, and they came home with the title.
In the boys' giant slalom (GS), the three Harwood athletes finished within 11 places of each other. Rubenstein skied into 26th place, Williams finished 30th and Taylor was not far behind in 36th place, out of 92 finishers.
They also finished within 1.89 seconds of one another. Rubenstein, with a combined time of 2:13.99, was 6.35 seconds behind the first-place finisher, Evan Scriven of New York.
The three boys were slightly more spread out at the end of the slalom event, but Rubenstein was once again the leader of the Harwood contingent. Rubenstein finished with a combined time of 1:24.90, 3.44 seconds back from first place.
Taylor and Williams switched places, with Taylor finishing in 30th place and Williams finishing 36th.
Boland put forth two solid races. In the giant slalom, she finished 6.14 seconds back, in 16th place. She would only improve in the slalom race. Boland moved into 12th place in slalom, finishing just 2.94 seconds behind.
Piper Beilke, the lone Harwood representative in the girls' events, finished 47th in the giant slalom, 9.62 seconds back. Beilke's slalom finish cracked into the top 20, however, placing 19th.