Harwood Nordic competes at state championships, girls nab second place
Written by

The Valley Reporter

Published in Sports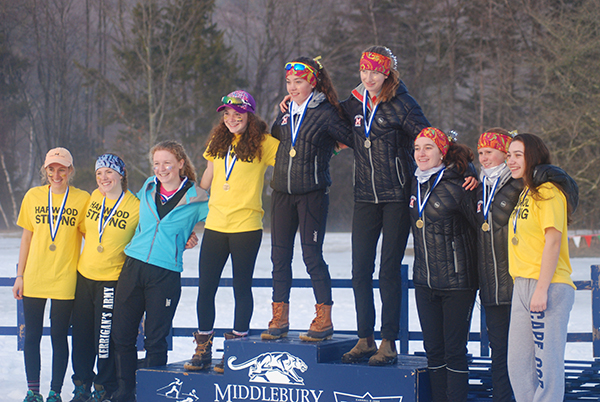 The Harwood Union High School Nordic team competed in the state Nordic meet, a two-day, four-event competition that opened on February 24 at Rikert Nordic Center in Ripton and concluded on February 27 at the Craftsbury Outdoor Center. The girls' team battled to a second-place finish in Division 2, just five points behind a strong Middlebury Union High School team bolstered by a late-season transplant from California. Harwood's boys' squad landed in fifth place.
The weather created challenging conditions for both days of the competition, with 40-plus-degree temperatures and sporadic downpours resulting in a slushy, soupy mess for the classic races at Rikert, followed by firm conditions initially for the skate races at Craftsbury that devolved for the afternoon relays as the temperatures warmed.
In the classic 5K individual opener, Harwood placed four girls in the top 10 for Division 2 – junior Jordi Kulis (third), senior Madeline Strasser (fifth), senior Anneka Williams (sixth), and sophomore Kyle Marie Hekeler (10th) – with junior Erin Magill (11th) just missing the cut. Rounding out the squad were sisters Isabel Jamieson, a junior (22nd), and freshman Anna Jamieson (28th) along with senior Chloe Riven (31st).
In the boys' field of 67 racers, senior Noah Eckstein landed on the podium in second place, followed by juniors Walker Caffry Randall (26th), Cam Alberghini (27th), senior Colin Fennelly (32nd), junior Tyler Skroski (33rd), sophomore Brendan Magill (42nd), freshman Theron Williams (46th) and senior Seth Davidson (47th).
In the afternoon's classic 2.5Kx4 team relay, the girls' foursome of Madeline Strasser, Kyle Marie Hekeler, Anneka Williams and Jordi Kulis finished on the podium in second place for Division 2, just 20 seconds behind Middlebury, and almost three minutes ahead of the third-place team from U-32. The boys' squad of Noah Eckstein, Walker Caffry Randall, Cam Alberghini and Colin Fennelly battled the deteriorating conditions and landed in fifth place among the field of 10 teams.
"The girls thought their competition would be with U-32, but everyone was surprised at the strength of the Middlebury team," said Harwood coach Tom Strasser. "But many of our girls have been training year-round, which is what it takes to be competitive in this sport, so going into Day Two, we felt we still had a good shot at displacing them."
On Day Two, the boys' 5K skate race kicked off the day. Noah Eckstein had hopes for another podium spot in the final individual race of his Harwood career but had to settle for a sixth-place Division 2 finish, with the five ahead of him all packed within 11 seconds of one another. He was followed by teammates Tyler Skroski, Cam Alberghini, and Walker Caffry Randall (clustered in 25th, 26th, 28th), Theron William (42nd), Brendan Magill (48th) and Seth Davidson (50th).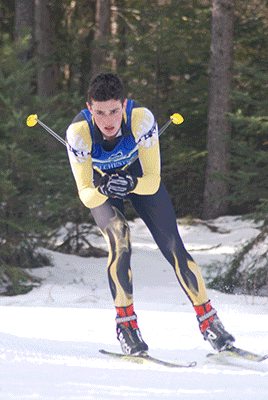 For the girls', the top 15 was littered with Harwood skiers, with Madeline Strasser in third place, followed by Jordi Kulis (fourth), Anneka Williams (seventh), Kyle Marie Hekeler (ninth), and Erin Magill (15th). Isabel Jamieson (25th), Sydney Kulis (37th) and Chloe Riven (39th) rounded out the team. With just one event to go, Harwood trailed Middlebury by 15 points. They would need to beat Middlebury's relay squad by two teams, requiring help from U-32.
In the boys' relay, Harwood landed in fifth place despite Noah Eckstein's victory in the first leg. For the girls, U-32 did up their game, as Harwood hoped, but they upped it a bit too much, grabbing first place, with Harwood in second and Middlebury in third, resulting in a 5-point deficit to Middlebury in the final standings.
"The girls fought with everything they had," said Strasser. "I am so proud of them, as I am the whole team. They worked so hard this year and accomplished more than I could have ever expected. To see their effort in this state championship meet was just so amazing."