HUUSD Board asked to bring $36M bond to voters
Written by

Katie Martin

Published in Schools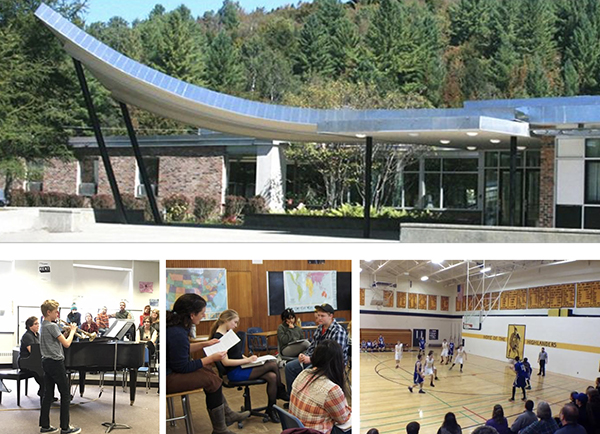 Harwood Unified Union School District (HUUSD) Board members will be asked to approve a $36 million bond after the board's annual meeting on March 4.
If the board approves that bond amount, it will come before voters in early June. The board is holding its annual meeting on March 4 in the Harwood Union library at 6 p.m. and the board is holding a special meeting.
The $36 million bond figure is based on moving all seventh- and eighth-graders in the district to Crossett Brook Middle School. The estimated bond amount for keeping those students at Harwood Union is $39 million. At its last meeting, the board was divided on whether or not to move the seventh- and eighth-graders with some board members asking if that decision could be separated from the Harwood bond decision.
The agenda for the March 4 meeting calls for accepting the recommendation of the Executive Facilities Committee (EFC) to proceed with Bond Option 2 (moving the seventh- and eighth-graders), priority 1 and priority 2.
Priority 1 items are code and deferred maintenance items. Priority 2 items are deferred maintenance and further enhancements. The packet from the architect, TruexCullins, includes no definition of further enhancements. The architect's packet was distributed on February 28.
At the February 8 EFC meeting, members decided that the Harwood roof and resurfacing of the Harwood track are necessities. At that meeting, committee members discussed bond amounts that ranged from $16 million on the low end, $29 million with some optional upgrades, to $33 million for a pie-in-the-sky approach.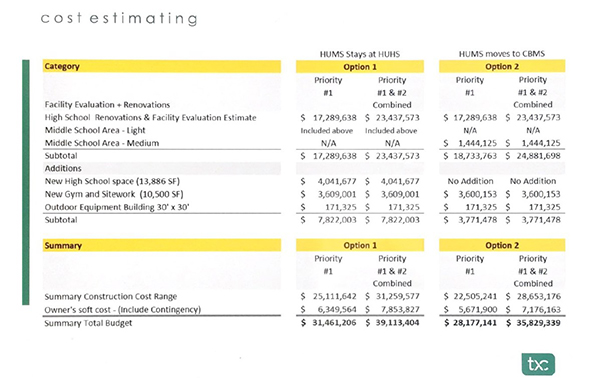 ARCHITECT'S PACKET
HUUSD Board chair Christine Sullivan said that the architect's packet presents basically a low- and a high-end option. She said the motion she recommended that the board consider on March 4 does include resurfacing the track and replacing the entire roof.
The architect's packet details specifics of construction as well as soft costs. According to architect David Epstein, hard costs are the construction costs and everything else is a soft cost. Soft costs include architectural and engineering fees, furniture, moving, legal, permits and the owner's contingency funds.
Sullivan said that despite the lack of decision on where middle-schoolers would be, the EFC wanted to get a proposal before the board to start the discussion.
"We want to move forward with public engagement. The board could say yes or no to $36 million or could ask to get that amount down to $30 million. We have to start somewhere and we need something to discuss and, yes, this presupposes that the middle-schoolers go to Crossett Brook," she said.
Sullivan said that deferring the project was only going to continue to increase project costs, something which Epstein noted in a February 15 letter to EFC chair Rosemarie White. Epstein said that before his firm could proceed to concept design without additional costs, the board needs to decide on where the middle-schoolers will be.
SIGNIFICANT COST INCREASE
"Without this decision and the ability to move forward, it may not be possible to hold a public bond vote this spring. Missing this deadline will result in a significant cost increase to the project. Currently constructions costs are escalating at a rate of 4 percent per year. Postponing the bond vote until November 2019 will cause a year delay in construction. For a $25 million project, this adds $1 million of additional cost to the project. This may also mean that we miss an early-winter bid time, when subcontractors provide the most competitive bids," Epstein wrote.
White said she supports the proposal and said she expects there will be some give and take on the bond amount.
"I don't believe in starting out with the skinniest proposal because some people are going to want to slash and burn just to lower it. I don't think we want a bond that just barely covers bringing the building up to code," White said.
Maureen McCracken, Waterbury HUUSD representative, said she has many unanswered questions about the future of the middle-schoolers.
"I'm concerned that we're getting this info on the eve of having new board members join us, and to that end I've reached out to the Waterbury candidates that I know to urge them to come to the meeting. This timing is unfortunate and concerning. I do think we need to hear info on what the high school needs. Very disappointing that there's a request that board vote on this when they haven't heard about this in detail," said Waterbury HUUSD representative Maureen McCracken.