Harwood Union tackles youth risk behavior
Written by

Katie Martin

Published in Schools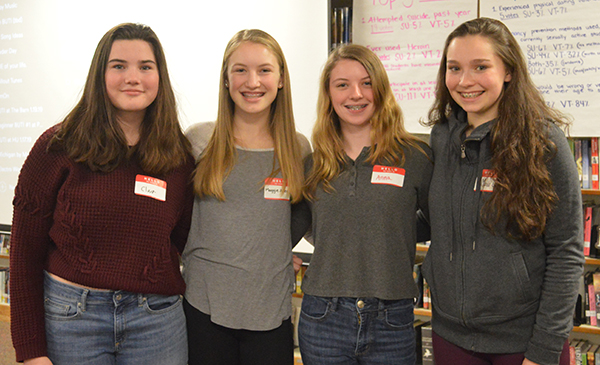 This is the first of two stories about youth risk behavior at Harwood Union and in the community. This week students from Harwood Union High School presented results from a 2017 youth risk behavior study that compares risk behavior trends from Harwood to statewide statistics.
At the February 18 community forum, community members, school board, administrators and district Superintendent Brigid Nease were in attendance for the student-run presentation. The students involved community members in group discussion and activities to educate them on statistics and data that were retrieved from Harwood and Crossett Brook students in grades six through 12 when they took the Youth Risk Behavior Survey (YRBS) in the winter of 2017.
According to local survey results, 30 percent of local students reported they'd ridden in a car where the driver had been drinking, compared to 22 percent statewide.
The YRBS, a nationwide survey given to students in grades six through 12 every two years, started in the 1990s. It was developed by the Center for Disease Control, and from that website it aims "to monitor health behaviors that contribute markedly to the leading causes of death, disability, and social problems among youth and adults in the United States. These behaviors, often established during childhood and early adolescence, include behaviors that contribute to unintentional injuries and violence, sexual behaviors related to unintended pregnancy and sexually transmitted infections, including HIV infection, alcohol and other drug use, tobacco use, unhealthy dietary behaviors and inadequate physical activity."
Overall 9 percent of 19 Harwood students who responded to the survey reported abusing prescription pain medications versus 8 percent statewide, according to the 2017 YRBS. The survey showed that 5 percent of the local respondents had attempted suicide in the past year, which mirrors the statewide results.
School counselors also helped facilitate the presentation alongside students. Guidance counselor and 2018 Rowland Fellow Tara Cariano commented on the project's process.
"Through this project, student leaders, such as the four students who facilitated the presentation, are trained how to read and understand data about the lives of themselves and their peers and how to use the data to shape their school and community. They also gain leadership skills such as how to facilitate group discussions, give presentations and manage a big project. Most importantly, they have the opportunity to make real changes in their schools and communities and to potentially improve the health of their fellow students. After they are trained, they plan and implement a student data analysis retreat which we call the Teen Health Awareness Summit in which they led youth participants from our school to dig deeply into the YRBS data and figure out what matters most to them," said Cariano via email.
In January, these same student presenters worked with Lou Bevacqui, a local mental awareness and resilience coach, to support and plan both a student and separate parent workshop. They held a Mental Machine Workshop on January 8, where students learned about why humans make choices they do and emotions involved.
Student leaders facilitated this week's event to share their asset map from the youth summit, share the YRBS data analysis results and seek community perspectives, expand the root cause analysis by including community member input, include community member ideas in crafting solutions and action plans, and have fun.
When asked if she thought people were surprised by the results of the survey, Cariano said, "Yes, I think the community members were surprised by much of the positive data such as the statistic that Harwood students report less electronic bullying than the state average. Community members were also surprised that Harwood students identified heroin as a concern from the data as it is a low percent of students who identified as using, but 2 percent is still too much!"
The next article will look at more specific statistics from the survey breaking down the number of percentage of voters, both male and female, by grade, on their opinions of drug usage, underage drinking, bullying, behavior and home life.