Erika von Trapp
Written by

submitted by the family

Published in Obituaries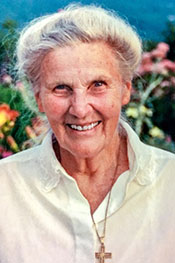 Erika von Trapp, wife of the late Werner von Trapp of Waitsfield, Vermont, passed away peacefully on January 18, 2018, in Poway, California, surrounded by the love of her family. She was 96 years old.
Born on January 16, 1922, in Salzburg, Austria, Erika was the daughter of Franz and Augusta Klambauer. She studied at the University of Natural Resources and Applied Life Sciences (BOKU) in Vienna, Austria, earning a degree in agricultural engineering.
In 1948, at the age of 27, Erika ventured all the way from Salzburg, Austria, to the United States to visit Martina von Trapp, a former classmate, living in Stowe, Vermont.
What was only to be a visit ended up lasting a lifetime. Erika fell in love with and married Martina's brother, Werner, and together they built a beautiful life on a dairy farm in Waitsfield, Vermont.
Living in the Mad River Valley and working the land, Erika cared for her family with tenacious devotion, strength and courage. She was an avid gardener, a wonderful cook and a keen correspondent.
She was a grounding and loving presence in the lives of her immediate family, her many grandchildren and great-grandchildren. Although she made her home in Vermont she maintained strong ties to relatives and friends in Austria, traveling back regularly even into her 90s.
Erika's outer beauty was matched by her inner dignity. She faced life with a vivacious spirit of adventure, a joyful sense of humor and a magnanimous heart. Always caring for others, she offered gracious hospitality to countless friends and family from around the world. Erika shared her faith in God and love of family with us all.
She is survived by her six children, her 18 grandchildren and 14 great-grandchildren. Erika was dearly loved and will be greatly missed.
A funeral service will be held at Our Lady of Snows Catholic Church in Waitsfield, Vermont, on May 19, 2018, at a time to be announced.
To send condolences and share stories online, please visit the following site: memorial.yourtribute.com/Erika-vonTrapp. In lieu of flowers, please donate to either the Covenant House, www.covenanthouse.org, or Vermont Foodbank, www.vtfoodbank.org.