Albert A. Raphael Jr.
Written by

submitted by family

Published in Obituaries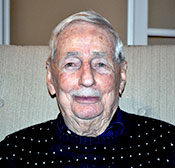 Albert A. ("Al") Raphael Jr. died on January 2, 2018, in North Andover, Massachusetts.
Al was born on June 4, 1925, in New York City, son of Albert and Claire Raphael (nee Schindler). His parents and sister, Muriel, predeceased him.
Al attended public grammar and high schools in New York and graduated from Phillips Andover Academy in 1942, Yale University (A.B. 1945W) and Harvard Law School (LLD 1950). He was a member of the team winning the Harvard Law School moot court competition.
Al served in the United States Army during World War II, first in the 94th Infantry Division and then in the 758th 155 Howitzers Field Artillery Battalion. He saw combat in France and Germany in the Hürtgen Forest, Ruhr River Crossing and Rhine River Crossing campaigns.
Al practiced law for 50 years, specializing in real estate, the first 25 years in New York City with Gallert, Hilborn and Raphael and Alter, Lefevre, Raphael, Lowry and Gould and then in Waitsfield, Vermont, both as a single practitioner and as a partner in the law firm of Raphael & Ware. He retired November 1, 2000.
Al and Dorothy, his wife of 46 years, whom he met skiing at Bromley, pursued their love of Vermont, first by buying a small vacation house in Waitsfield in 1966 and then building a home and office in Waitsfield and becoming Vermont residents in 1972.
Al served the town of Waitsfield in many capacities: select board 1976-1982, chairman of the select board 1981 and 1982, and moderator 1983 and 1984, board of adjustment 1974-1983 and again in 2003-4, and planning commission 1997-2003.
Al was a founding member of the Mad River Valley Rotary Club and a member of the Quaker Ridge and Sugarbush Golf Clubs. He was an unsuccessful golfer and an avid skier for more than 65 years, skiing East and West, and in many of the European resorts.
Al was predeceased by his beloved wife, Dorothy, whom he married in 1960. He is survived by his son, Bruce, a partner in the international firm Jones Day and who is the third generation of Raphaels practicing law; his daughter-in-law, Lisa; and twin grandchildren, William and Ashley, all of whom reside in Andover, Massachusetts.