John Linder King
Written by

Submitted by family

Published in Obituaries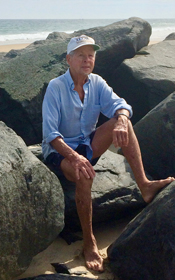 John Linder King of Waitsfield, Vermont, and Sea Girt, New Jersey, passed away on January 17, 2018, at the age of 83 years. He was born on November 12, 1934, in New York City, the son of George and Florence King. He graduated from Xavier High School and Fordham University with a BS in physics. He married Barbara LaBorne in Garden City, Long Island, on October 12, 1968.
John worked as an executive and consultant in the satellite technology and cable television industry for more than 30 years. For over 23 years, John has been an ambassador at Sugarbush and was an altar server at Our Lady of the Snows Church in Waitsfield and St. Mark's Church in Sea Girt, NJ.
John lived life to the fullest … his love of the beach, surf, skiing, faith, family and friends was tremendous. Known as Johnnywave down at the Jersey Shore, he would be the first to put on his bathing suit to catch the big waves after a hurricane. The same was true after a dump of fresh powder. Last Tuesday was his 41st day on the mountain. He will always be remembered for his love of life, people and God.
He is survived by his wife of 50 years, Barbara; daughter, Susan and her husband Joseph Chandler and grandson Lucius of San Rafael, CA; son, Thomas and his wife Justine and grandson Thomas Jr. of Denver, CO; sister, Kimball Dougherty, nieces Nora Dougherty and Jennifer Tobin, nephew Timothy Dougherty; sister-in-law, Mimi Downing, nephew Thomas; brother-in law, Bill LaBorne and his wife Joyce, niece Charlene Mainville; and brother, Gordon King (deceased), nieces Kathleen, Theresa and Michelle and nephew Michael King.
A memorial mass will be held at 11 a.m. on Wednesday, January 24, 2018, at Our Lady of the Snows Church, 6305 Main Street, Waitsfield, VT, with a reception to follow at Sugarbush Resort Rumble's Kitchen, 62 Gate House Lane, Warren, VT.
In lieu of flowers, donations in John's memory would be appreciated to the Mad River Valley Ambulance Service, P.O. Box 305, Waitsfield, VT 05673, and the Waitsfield-Fayston Volunteer Fire Department, 4144 Main Street, Waitsfield, VT 05673. Assisting the family is Perkins-Parker Funeral Home in Waterbury, VT. To send online condolences visit www.perkinsparker.com.