Susan Ann Morse
Written by

Submitted by family

Published in Obituaries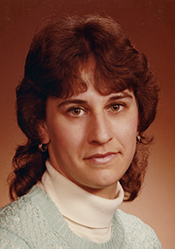 Susan Ann Morse, 61, of Duxbury passed away at Central Vermont Medical Center in Berlin on Tuesday evening, December 26, 2017. Born in Stockton, CA, on October 12, 1956, she was the daughter of Marilyn (Harvey) and the late Francis DeForge. On October 29, 1982, she married Wade T. Morse in Waterbury.
Susan was a 1974 graduate of Harwood Union High School. Busy and happy as a homemaker and raising her children, Susan later was employed for many years in customer service by Leahy Press of Montpelier and then as a manager and clerk at Depot Beverage in Waterbury. In her leisure time, she enjoyed trying her luck at casinos in Las Vegas, Atlantic City and Foxwoods Resort in CT. Susan also enjoyed playing a variety of online games. She is lovingly remembered for being a good friend, loving mom, wife and grandmother, and her joy in spending time with family.
Susan is survived by her husband, Wade T. Morse of Duxbury; her mother, Marilyn Zeno of Waterbury; her children, Nicole Thayer of Duxbury and Michael Thayer and his wife Jennifer of Barre City; seven grandchildren, Caleb, Courtney, Deseriee, Connor, Cody, Madison and Jaiden; her stepchildren, Wendy Welch and her husband Jim of Duxbury and Eric Morse of Berlin; two sisters, Ruth Noel and her husband Clement of Underhill and Nancy Baker and her husband Andy of Northfield; as well as nieces, nephews and extended family. Susan was predeceased by a sister, Linda Graham, and a brother, Steven DeForge.
Private graveside services will be held from the Duxbury Corner Cemetery this spring. For those who wish, memorial gifts in Susan's name may be made to the Waterbury Ambulance Service, P.O. Box 95, Waterbury Center, VT 05677. Assisting the family is Perkins-Parker Funeral Home and Cremation Service in Waterbury. To send online condolences visit www.perkinsparker.com.