John Larkin Costello
Written by

Submitted by family

Published in Obituaries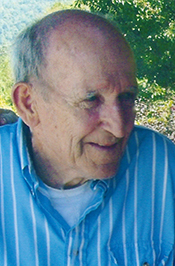 John Larkin Costello, 85, of South Duxbury, Vermont, passed away at home peacefully in his sleep on December 17, 2017. Born in Yonkers, New York, on May 20, 1932, he was the son of the late Joseph and Mary (McGovern) Costello. John graduated from Irvington High School in 1950 and continued his education at Norwich University where he graduated in 1954 with a bachelor's in chemistry. While at Norwich, John was a member of the Corps of Cadets, the Mountain and Cold Weather Company and Theta Chi Fraternity. On September 7, 1957, he married the former Ulilla Jean Allen in Towanda, Pennsylvania. They recently celebrated their 60th anniversary.
Following graduation, John began his career at Phillips Labs in Tarrytown, NY. There he purified germanium to support the new transistor radios. John was then employed by Sylvania Electric Products in Towanda, PA, and Geneva, IL, and then Mallory/Duracell Battery Company in Tarrytown, NY, for over 30 years as an application engineer and was instrumental in developing the initial battery design for early home smoke detectors. He was also involved in the "batteries included" program for toys.
He loved to go to the Brooklyn Dodgers games with his brother and later became an avid Cubs fan. He participated in sports excelling in baseball, football, basketball, tennis and skiing. He loved coaching youth baseball for many years. He was also a volunteer fireman in Campbell Hall, NY.
John is survived by his wife, Ulilla (Eulie) of South Duxbury, VT; one daughter, Tracy Costello of South Duxbury, VT; four sons, John Patrick Costello and wife Audrey of Mena, AR, Michael Costello and wife Pam of Albuquerque, NM, Christopher Costello and wife Diana of Moretown, VT, and Thomas Costello and wife Corinna of Danville, VT. John loved spending time with his seven grandchildren, Katie, John, Hannah, Meghan, Mary, Madison and Porter. He is also survived by his sister, Elizabeth (Betty) Byrnes, and his nephew, Richard Condon and family of CT; a cousin, Margaret McGovern of Ireland; as well as countless friends. John is preceded in death by his brother, Joseph T. Costello, killed in the Philippines during WWII.
A Mass of Christian Burial will be celebrated from St. Andrew Catholic Church in Waterbury, VT, on December 28, 2017, at 11 a.m. with a reception to follow in the church parish hall. Friends may call at Perkins-Parker Funeral Home in Waterbury, VT, on December 27, 2017, from 6 to 8 p.m. Interment will take place in the spring at Oak Hill Cemetery in Towanda, Pennsylvania. The family requests that in lieu of flowers, memorial gifts be considered to Central Vermont Home Health and Hospice, 600 Granger Road, Barre, VT 05641 (www.cvhhh.org), or to the Goshen Little League, P.O. Box 314, Goshen, NY 10924. To send online condolences visit www.perkinsparker.com.