Barbara Jarosinski
Written by

Submitted by family

Published in Obituaries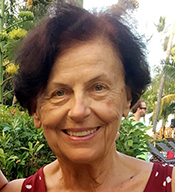 Barbara Jarosinski passed away on November 13, 2017, two days shy of her 74th birthday, after a short yet valiant battle with pancreatic cancer. Born in Opole Lubelskie, Poland, in 1943 during the height of World War II, Barbara came into the world a fighter, surviving bombings and severe deprivation in the first years of life, which claimed an older sister before her.
Barbara harnessed her fighting and pioneer spirit to propel her through a challenging but rewarding life. She graduated first in her class from her local high school and was admitted into Warsaw University – an unlikely and incredible accomplishment for a small-town girl from a coal mining community in communist Poland. Her commitment to education and thirst for knowledge led her to a love for languages of which she mastered five. While Barbara pursued her studies, she worked as an English tour guide for adventurous westerners wanting to peek behind the Iron Curtain and visit Poland in the early 1960s. She earned a master's degree with honors in English literature and went on to become an editor of a prominent Polish science journal.
During the Cold War in 1982, Barbara and her husband sought and received political asylum in the U.S. after bravely defecting from Poland with their two children. Settling in Queens, NY, with only a few hundred dollars, they set their sights on "the American Dream" idyll and worked tirelessly to achieve it. Barbara worked as a chief editor for the United Nations library for 23 years. She received an outstanding achievement award for her contributions to the United Nations when she retired in 2003.
Upon retirement, Barbara and her husband moved to Waitsfield, Vermont, to be closer to family. In Vermont, Barbara occupied her favorite role as doting grandmother and prolific baker of European pastries. The long winters finally motivated a move south to Venice, Florida, in 2012 where Barbara spent the last five years making new friends, dancing, winning at bocce, writing her memoirs and baking sweet treats for everyone in her neighborhood.
Barbara was loved and cherished by her husband of 51 years, Matthew; son, Robert; daughter, Eve Frankel and her husband Gary Frankel; granddaughters, Amanda and Talia; grandson, Gabriel; sister, Ewa Walewska and her husband Wlodek Walewski, and nieces, nephews and friends.
Barbara spent the last days of her life at Tidewell Hospice, where she was surrounded by the love and comfort of her family, as well as the kindness of staff and volunteers. If desired, contributions in Barbara's name may be made to Venice Hospice House, 210 Wexford Boulevard, Venice, FL 34293.