Elva Mae Martin
Written by

Submitted by family

Published in Obituaries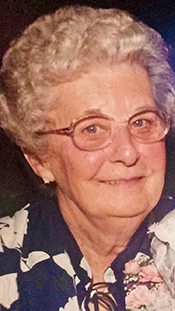 Elva Mae Martin, 93, passed away in the comfort of her home and family on Monday morning, November 13, 2017. Born in Montpelier on November 3, 1924, she was the daughter of the late Edward and Mae (Martell) Copping. On March 2, 1946, she married Leslie W. Martin in Montpelier. Leslie predeceased Elva on October 22, 1994.
Elva grew up in East Montpelier where she attended schools. Following her marriage, she and Leslie lived in Newport for several years and then made their home in Waterbury where she was happy and busy as a homemaker and raising her family. She later was employed at the Vermont State Hospital in Waterbury where she served for many years as a psychiatric technician.
Elva was a lifetime member of the Harry N. Cutting American Legion Auxiliary Unit 59 in Waterbury and the Montpelier VFW Post 792 Auxiliary. In her leisure time, she enjoyed music and dancing, particularly polkas, playing cards, reading, traveling and spending time with her large and loving family.
Elva is loved and mourned by her children, Constance Murray of Waterbury, George Martin and his wife Joyce of Waterbury Center, and Edward Martin and his wife Doris of Williamstown; 10 grandchildren, 16 great-grandchildren and four great great-grandchildren; two brothers, Clayton Copping and his wife Joyce of Barre Town and Paul Copping and his companion Barbara Kuncz of Montpelier; as well as nieces, nephews and extended family. Elva was predeceased by two sisters, Ramona Cookson and Norma Bashaw, and a brother, Roland Copping.
Friends may call at Perkins-Parker Funeral Home in Waterbury on Friday, November 17, 2017, from 6 to 8 p.m. Funeral services will be held from Wesley United Methodist Church in Waterbury on Saturday, November 18, at 11 a.m. with a reception to follow in the church dining room. The family requests that in lieu of flowers, memorial gifts would be appreciated to Central Vermont Home Health and Hospice, 600 Granger Road, Barre, VT 05641 (www.cvhhh.org). To send online condolences visit www.perkinsparker.com.