Elaine (Naylor) Deal Sabin
Written by

Submitted by family

Published in Obituaries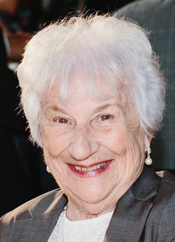 Elaine "Sis" (Naylor) Deal Sabin, 89, of Waterbury Center, VT, passed away peacefully on Sunday, August 20, 2017.
Born July 30, 1928, in Montpelier, VT, she was the daughter of the late Clinton H. and Mary Louise (Truso) Naylor. She grew up in Waterbury and graduated from the former Waterbury High School in 1946 and earned a B.S. degree from Trinity College in Burlington in 1950.
She married Walter K. "Bud" Deal Jr. on September 6, 1952. They had 20 wonderful years of marriage together while raising their three children at their home in Waterbury Center. Bud passed away unexpectedly on March 30, 1972.
On October 16, 1982, she married Richard W. "Peanut" Sabin. They enjoyed 20 years together spending time with their families and traveling after their retirements. Richard passed away on April 12, 2002.
Sis' early working career included secretarial and administrative positions at the Vermont Department of Health and radio station WDEV. After three years of substitute teaching she earned a full-time teaching position at Waterbury Elementary School in 1969, where she touched the lives of many fourth-graders until her retirement in 1990. After Sis retired she continued her love and passion for teaching as a substitute teacher and tutor.
In 1992, she began a second career of service to her community as a volunteer worker for the Waterbury Area Food Shelf, becoming its director in 1995. For the next 13 years, until her retirement in 2008, she directed the activities of the food shelf as it expanded to meet the growing needs of the community. Sis received the Keith Wallace Memorial Service Award in 2007 for her dedication to the people of Waterbury.
Her memberships included St. Andrew Catholic Church, the Catholic Daughters of the Americas-Court Saint Theresa, the Altar Society, and she was a former member of the Blush Hill Country Club of Waterbury. Her more recent memberships included the Vermont Retired Teachers Association, the Waterbury Senior Center, the Retired Senior Volunteer Program (RSVP) and the Community Action Service Team (CAST), as well as the Waterbury High School Alumni Association.
Sis cherished her time with all her family and friends. She enjoyed traveling, golfing, reading, working in her perennial gardens and her work at the local food shelf. Sis loved life, people and her many students. She was deeply devoted to her family and "Nana" adored her grandchildren and great-grandchildren.
Sis is survived by her three children, Howard Deal and his wife Patty, Gary Deal and his wife Pam, and her daughter Sally Reilly and her husband Dan; five grandchildren, Heather Deal McCrea, Ryan Deal, Nichole Deal Schwab, Nicholas Deal and Maggie Eliza Reilly; and seven great-grandchildren, Amya and Addi Deal, Logan and Nolan Schwab, Austin and Hailey Deal and Jackson McCrea. She is also survived by her stepchildren, Brad Sabin and his fiancée Tela Torrey, Jeff Sabin and his wife Joan, Ginny Sabin and Chris Sabin and his wife Brenda; four step-grandchildren, Chelsey Sabin, Britney Pombar, Danielle Voegtlin and Tyler Sabin and their families; her sister-in-law, Mary Jane Talbert Naylor; her two nieces, Nancy and Sandra Naylor; and her nephew, Robert Naylor and his wife Dimitra and their children, Maia and Samuel, as well as her extended family, Penny, Billy and Michael Robie. She was predeceased by her loving brother, Howard Naylor.
A Mass of Christian Burial will be celebrated on October 21, 2017, at St. Andrew Catholic Church in Waterbury at 11 a.m. with a reception to follow. There will be no calling hours. The family requests that in lieu of flowers contributions may be made in memory of Sis to the Waterbury Area Food Shelf, 57 South Main Street, Waterbury, VT 05676. Assisting the family is Perkins-Parker Funeral Home and Cremation Service in Waterbury. To send online condolences visit www.perkinsparker.com.