Lester E. Cameron
Written by

Submitted by family

Published in Obituaries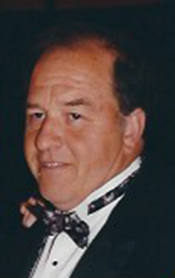 Lester E. Cameron, 68, passed away in the comfort of his Moretown home on Wednesday, August 2, 2017. Born on December 20, 1948, in Montpelier, Vermont, Lester was the son of Dean and Mabel (Brooks) Cameron. Lester spent his early years on the family farm in Warren where he enjoyed the loving affection of his six older siblings. When he was a teenager, he moved with his parents to Freeman Hill in Moretown where he spent the remainder of his years happily as a husband, father, grandfather, farmer, sugar maker, logger and steward of his family land.
Lester married Marilyn Grandfield on December 1, 1967, in Moretown. Together they spent nearly 50 years building a life and raising their six children on the family farm and land in Moretown, Vermont. Although always a farmer at heart, Lester worked in several capacities including E.A. Grandfield Excavation, custodian at both Warren Elementary and Harwood Union High School and as a member of the town road crew in Moretown.
Lester took great pride and joy in his family and nothing made him happier than being surrounded by his six children and their families. From an early age, he loved horses, especially draft horses, and had many teams over the course of his 68 years. In addition, Lester enjoyed gardening with his wife, journaling (something he did up until his death), reading, viewing wildlife, time with his 1968 rusty, trusty Massey Ferguson, and watching Western movies.
Lester is survived by his large and loving family including his wife of 49 years, Marilyn, of Moretown; sons, Scott Cameron and partner Kriss Naylor of North Haverhill, NH, and Martin Cameron and wife Jennifer of Moretown; daughters, Kimberly Swanson and husband Kurt of Moretown, Pamela Dow and husband Hugh of Moretown, Michelle Gauthier and husband Eric of Jackson, WY, and Nicole Rocheleau and husband Marc of Moretown; seven grandchildren, Ava Gauthier, Cameron and Kendra Rocheleau, Kaylee and Connor Cameron and Emily and Erica Dow; sister, Geralene Thompson of Rowayton, CT; sisters-in-law, Joan Grenier (Roger) of Waterbury Center, Barbara Grandfield of Venice, FL, and Carol Edwards of Roxbury; brothers-in-law, Eugene Grandfield, Ronald Ward of Moretown and Elwin Jones of Montpelier; as well as numerous nieces, nephews and cousins. He will also be greatly missed by "granddog" Riley with whom he spent his days. He was predeceased by his parents, as well as five siblings including Leona Neill, Bert Luce, Arlene Crete, Randall Luce and Vera Ward.
His family would like to extend their deepest thanks and appreciation to Dr. Heitzman, Dr. Brock, Dr. Kahn and Mad River Valley Ambulance Service for their years of exceptional care. In lieu of flowers, memorial gifts would be appreciated to Mad River Valley Ambulance Service, P.O. Box 305, Waitsfield, VT 05673.
A celebration of Lester's life will be held on the land he loved, Freeman Hill. Friends and family are welcome to join the family for an informal gathering at the home of Kimberly and Kurt Swanson, 795 Freeman Hill Road, starting at 3 p.m. on Saturday, August 12, 2017. To send online condolences please visit www.perkinsparker.com.