Felton P. Michael
Written by

Submitted by family

Published in Obituaries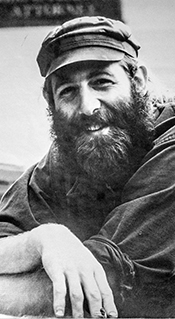 Felton P. Michael, 69, of Waitsfield, VT, passed away unexpectedly at his home on Wednesday, August 2, 2017. Born February 24, 1948, and raised in Devon, PA, he was the son of Wolfgang Michael and Hadassah P. Nimmo. On March 11, 1978, he and Maime Sipple Cain were married in Waitsfield.
Felton grew up outside of Philadelphia where early rock 'n' roll history was being made. This shaped many of his lifelong passions, including amassing a vast record collection and a professional-level sound system as well as DJ'ing as the Fel-Tone Sound Company. He and a friend once visited Chubby Checker, unannounced, at his home. Mr. Checker greeted them at the door in his bathrobe and generously humored their youthful enthusiasm at meeting a rock 'n' roll star.
Starting at an early age, Felton worked in a bowling alley as a pin chaser. Later in life, he was a faithful member of the Mad River Stompers, a Valley team in an area bowling league.
His family had been summer visitors to The Valley for years, where he decided to settle in 1972. Soon after, he opened Reality Restaurant in the Village Square Shopping Center, operating it until 1977. He then earned his electrician's license and continued to practice the trade as a master electrician for the rest of his career. For many years, he provided power to the Warren Fourth of July parade, early horse show events and the Mad River Valley Craft Fair since its inception. He was methodical and exacting in his work and instilled that work ethic in others: "Any job worth doing was worth doing right." He also made it clear that if you borrowed a tool, it better go back just where you found it. He was a familiar face around town with his long beard, ponytail and signature leather cap.
When he and Maime's daughters were young, he enjoyed cross-country skiing with them in his backpack. As his daughters grew, he continued to support them in other ways. He was fiercely proud of each of them. He never missed attending a musical performance or snipping out a newspaper clipping from any of their many accomplishments. They continued to enjoy walks and cross-country skiing for many years to come and spent many hours playing cribbage or working on tediously difficult puzzles. Both daughters also developed a deep appreciation for classic rock and chest-rattling organ fugues.
Felton was the Mad River Valley Lions secretary for many years; he kept detailed notes, never missed a meeting and was instrumental in making the Memory Tree the annual tradition that it is today.
He enjoyed spending his time on crosswords, reading and watching television – especially Star Trek reruns. "Live long and prosper," as Felton would say, and he certainly did just that.