Stanley Earl Richardson
Written by

Submitted by family

Published in Obituaries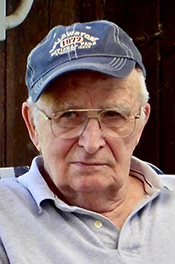 Stanley Earl Richardson, 87, passed away in the comfort of his home and family on Thursday afternoon, August 3, 2017. Born in Stowe on March 28, 1930, he was the son of the late Perley Richardson and Eva L. (Perry) Richardson. On September 28, 1960, he married the former Ida M. Santamore in Elizabethtown, NY.
Stan grew up in Stowe and attended schools there. At the age of 17 he joined the U.S. Navy and served on the aircraft carrier USS Franklin D. Roosevelt. Upon his discharge, he worked several years in the woods logging for his uncle Azro Perry and then drove a taxi for Morse's Taxi Service in Waterbury. Stan then began a career as a truck driver, working first for the Cosgrove Co. for several years and then for Rousse Transportation, retiring in 1994 following 40 years of being on the road. He was a member of the Teamsters, Local 597. In his leisure time, Stan enjoyed traveling, fishing, hunting, following NASCAR, the Boston Red Sox and the Patriots as well as doing jigsaw puzzles.
Stan is loved and mourned by his wife of 57 years, Ida Mae Richardson of Bolton; their children, Wendy Richardson of Waterbury, Ricky Richardson and his wife Angela of Lorton, VA, Randy "Joe" Richardson and his wife Melody of Middlesex, and Robert Richardson of Roxbury; two grandchildren, Alisha Richardson of Middlesex and Derek Richardson of Waitsfield; a great-grandson, Carter Poitras; four sisters, Gloria Santamore and her husband Robert of Moretown, Mary Bedell of No. Providence, RI, Sandy Hennessey and her husband Kevin of Coventry, RI, and Cheryl Dailey of Rollinsford, NH; three brothers, Bruce Richardson and his wife Nancy of West Lebanon, NH, Perley Richardson Jr. and his wife Lori of Berwick, ME, and Charles Richardson and his wife Debbie of Waterbury Center; as well as nieces, nephews and extended family. Stan was predeceased by his son, Johnpaul "JP" K. Richardson on May 31, 2014.
A celebration of Stanley Richardson's life will be held from Wesley United Methodist Church in Waterbury on Thursday, August 10, 2017, at 1 p.m. with a reception to follow at the Waterbury Senior Center. Inurnment will take place in Middlesex Center Cemetery. The family requests that in lieu of flowers, memorial gifts would be appreciated to the American Cancer Society (www.cancer.org). Assisting the family is Perkins-Parker Funeral Home and Cremation Service in Waterbury. To send online condolences please visit www.perkinsparker.com.