John A. Smith
Written by

Submitted by family

Published in Obituaries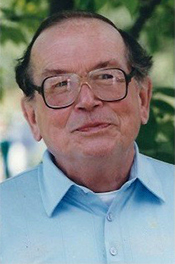 John A. "Jack" Smith, 89, passed away in the comfort of his Waitsfield home on Monday afternoon, July 31, 2017. Born in Montpelier on February 2, 1928, he was the son of the late Herbert H. and Irene (Flanagan) Smith. On July 15, 1952, he married the former Judith Tucker in Moretown. Judy passed away on July 19, 2008.
Jack graduated from Waitsfield High School and continued his education at Rensselaer Polytechnic Institute in Troy, NY, where he received a bachelor's degree in aeronautical engineering.
Following graduation, Jack worked his entire career as an aeronautical engineer. Beginning with the Convair Co. in Dallas-Fort Worth, TX, for two years, Jack moved to Bedford, MA, where he was employed by Draper Laboratory, an engineering organization that designed and developed the world's most accurate and reliable guidance systems and instruments for intercontinental ballistic missiles, as well as other highly precise, ultra-reliable guidance and control systems. He later worked for Sanders Associates, first in Bedford, MA, and later in Nashua, NH, a defense contractor specializing in developing and manufacturing electronic systems, notably aircraft self-protection systems, tactical surveillance and intelligence systems.
While living in Bedford, MA, Jack served on the board of assessors and chaired the campaign in Bedford for the re-election of Senator Edward Brooke III. Jack was also a night school educator for the aeronautical program at Boston University. In 1991, Jack and Judy returned to the Mad River Valley and settled into the Smith family homestead on Bridge Street. Active and convivial, Jack enjoyed being a justice of the peace, a member of the Waitsfield Historical Society and Cemetery Commission, the Couples Club and was a faithful parishioner at Our Lady of the Snows Catholic Church. In his leisure time, he enjoyed skiing, vegetable gardening, as well as airplane and glider rides from the Warren-Sugarbush Airport.
Jack is survived by his children, Kathleen Barlow and her companion Ralph Bavuso of Winchendon, MA, Norman J. Smith and his wife Aleta of Watauga, TX, Kendall T. Smith of Merrimack, NH, and Michael S. Smith and his wife Donna of Waitsfield; four grandchildren, Jessica Smith, Ben Smith, Michael Barlow and Will Barlow; a sister, Susan Saboski of Burlington; as well nieces, nephews and extended family. Jack was predeceased by two brothers, Roger F. Smith and Norman C. Smith, and a grandson, Mathew Barlow.
A Mass of Christian Burial will be celebrated from Our Lady of the Snows Catholic Church, 6305 Main Street, Waitsfield, VT, on Wednesday, August 9, 2017, at 11 a.m. Inurnment will follow in the Waitsfield Common Cemetery. A reception will be held at the Mad River Barn in Waitsfield. The family requests that in lieu of flowers, memorial gifts would be appreciated to the Mad River Valley Ambulance Service, P.O. Box 305, Waitsfield, VT 05673, or to Central Vermont Home Health and Hospice, 600 Granger Road, Barre, VT 05641 (www.cvhhh.org). Assisting the family is Perkins-Parker Funeral Home and Cremation Service in Waterbury. To send online condolences please visit www.perkinsparker.com.