Cayden Louis Dion
Written by

Submitted by family

Published in Obituaries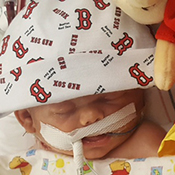 Cayden Louis Dion, infant son of Seth A. and Brittany A. (Ferris) Dion, passed away peacefully and in the comfort of his family on Monday, July 24, 2017, at Boston Children's Hospital. Cayden was born on July 11, 2017.
He is loved and mourned by his parents, Seth and Brittany Dion of Waterbury Center; his sister, Emily J. Dion of Barre; his maternal grandparents, Scott and Tammy Ferris of Waterbury; his maternal great-grandparents, Bernard and Marcia Sweet of Duxbury and Glenn and Carol Ferris of Alburg; his maternal great-great grandmother, Pauline Lemery of Waterbury Center; his paternal grandparents, Robin and John Mascitti of Plainfield; his aunt, Kaylee Ferris of Waterbury; his uncle, Joshua Dion and his wife Melissa of Marlboro, MA; as well as a large extended family.
Services for Cayden will be held privately for family. Seth and Brittany extend their heartfelt appreciation to everyone who has been by their side, holding them in their thoughts, sending prayers of hope and support, and to the wonderful nurses, doctors and support staff at Boston Children's Hospital. For those who wish, memorial gifts would be appreciated to the Boston Children's Hospital Trust (www.childrenshospital.org/giving). Assisting the family is Perkins-Parker Funeral Home and Cremation Service in Waterbury. To send online condolences please visit www.perkinsparker.com.