Rita V. Mandigo
Written by

Submitted by family

Published in Obituaries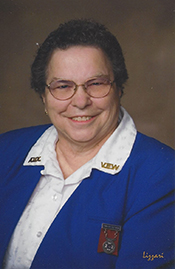 Rita V. Mandigo, 80, passed away peacefully on July 15, 2017, at the Mayo Nursing Home in Northfield. She was born April 13, 1937, in Montpelier, the daughter of Leon and Emma Gratton Vasseur. Rita grew up in Fayston and was a 1955 graduate of Waitsfield High School.
Rita was employed by National Life and retired after nearly 40 years of employment there. She had also worked at Grand Union and Brooks. She was a very active member of the ladies auxiliary of VFW Post 792 and was also active in the VFW auxiliary throughout New England, attending numerous conventions throughout the years.
She enjoyed camping and loved cardinals. Rita was an avid Red Sox fan. Most of all she enjoyed spending time with her grandsons and watching them play sports.
She is survived by her children, Randy Mandigo and wife Gwyn of Moscow and Bobby Mandigo of Stowe; two grandsons, Austin and Ross; a brother, Robert Vasseur and wife Gelia of Fayston and several nieces and nephews. In addition to her parents, she was predeceased by siblings, Laura Harrington, Jeannette Pearce, Adrian Vasseur, Albert Vasseur, Ernest "Curly" Vasseur and Arthur "Sonny" Vasseur.
Interment will be later in the summer at Riverbank Cemetery in Stowe and will be announced. Faith Funeral Home is assisting with arrangements. Online condolences may be made by visiting faithfh.net.
Contributions in Rita's memory may be made to Brown-Johnson VFW Ladies Auxiliary Post #792, 1 Pioneer Street, Montpelier, VT 05602.