Michael S. Graham
Written by

Submitted by family

Published in Obituaries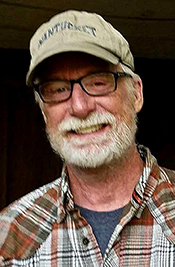 Michael S. "Mickey" Graham, 62, passed away at his home on Monday, July 17, 2017. Born in Montpelier on November 11, 1954, he was the son of Eleanor (Perry) Graham and the late Glen R. Graham. On June 16, 1984, he married the former Linda L. DeForge in Waterbury. Linda predeceased Mickey on June 21, 2010.
Throughout his youth, Mickey developed lifelong skills and interests as he worked on the family farm and for the local lumber mill and enjoyed all that the outdoors had to offer, particularly hunting. He was a 1973 graduate of Cabot High School. Mickey became, what would become his life's work at the Vermont State Hospital in Waterbury, a psychiatric technician and unit supervisor and retired, following 34 years of service to the state and the patients he cared for, in 2010. Not one to be idle, Mickey took great pride and enjoyment in helping anyone, anytime on a variety of projects whether it be construction, logging or whatever was needed. Anytime, anyplace, he was ready, willing and able.
Truly an outdoorsman, Mickey was at home in the woods. An avid deer hunter and superb tracker, Mickey had an extensive network of friends and fellow hunters that appreciated his natural abilities. Mickey's home away from home was the camp he and his brother John owned in Bowerbank, ME, that was officially known as the Mousetrap Camp. There they not only hunted and basked in the glory of their surroundings but also enjoyed scouring the woods for antler sheds in the springtime.
Throughout the years Mickey enjoyed camping with his family at Elmore and Eden, photography, four-wheeling, fishing and especially riding his Harley. He also took great pleasure in spending time with is special uncles, Donald and Bernard Perry. Truly the apple of his eye was his granddaughter, Nevaeh. Together they enjoyed shopping, motorcycle rides and going on a variety of adventures together.
Mickey is loved and mourned by his daughters, Kristin Graham and her daughter Nevaeh Brown of Waterbury and Caitlin Graham of South Lake Tahoe, CA; his mother, Eleanor Graham of Marshfield; three sisters, Rhonda Larrabee and her husband Brian of Waterbury, Lisa Graham of Marshfield, and Michele McLauren and her husband Scott of Marshfield; two brothers, Terry Graham and his wife Tina of Berlin and John Graham of Marshfield; as well as nieces, nephews and extended family.
Memorial services will be held from Waterbury Congregational Church, 8 North Main Street in Waterbury, on Tuesday, July 25, 2017, at 11 a.m. with a reception to follow in the church dining room. Inurnment will take place in Duxbury Corner Cemetery. Memorial gifts in lieu of flowers would be appreciated to Hunt of a Lifetime Foundation, P.O. Box 241, Harborcreek, PA 16421 (Hunt of a Lifetime is a nonprofit organization with a mission to grant hunting and fishing dreams for children age 21 and under, who have been diagnosed with life-threatening illnesses). Assisting the family is Perkins-Parker Funeral Home and Cremation Service in Waterbury. To send online condolences please visit www.perkinsparker.com.