David Francis Auger
Written by

Submitted by family

Published in Obituaries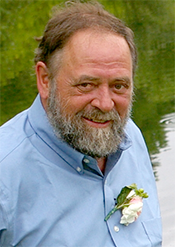 David Francis Auger of Moretown, VT, died peacefully on July 5, 2017, at Central Vermont Medical Center, after suffering complications from ongoing health issues.
David Francis Auger was born September 28, 1949, in Rutland, VT, the second of five children born to Francis and Lucelle Auger. Although Mr. Auger was raised in Greenwich, CT, his love of nature and the outdoors, especially skiing, brought him back to The Valley in the mid-70s. In 1978, he met his wife, Becky, and in 1980 they settled in Moretown where they built the family homestead and raised their daughters, Krista Lynn and Sarah Jean. Young children always delighted Mr. Auger, especially his young granddaughter, Mallory.
Mr. Auger had a deep love of his land, especially the pond that was constructed in the upper field and the surrounding woodlands where he could be found cross-country skiing in the winter and faithfully sugaring every spring. He remained an avid skier of Mad River Glen, especially their woods, throughout most of his life. Mr. Auger played tennis and golf with family and friends whenever he could. An opportunity to fish on the New England coast was one of the few temptations to lure Mr. Auger away from the beauty and tranquility of The Valley.
He is survived by his wife of 37 years, Rebecca Ann Auger of Moretown, VT; daughter, Krista Auger Mitchell, son-in-law, Dan Mitchell and granddaughter, Mallory Jean Mitchell, of Moretown, VT; and daughter, Sarah Auger of Burlington, VT. Mr. Auger also leaves his mother, Lucelle Auger of Greenwich, CT; sister, Cathy Vesterby of Glens Falls, NY; sister, Maryellen Solomon-Auger of Marblehead, MA; and brother, Stephen Auger of Santa Fe, NM; as well as an extended family of in-laws, nieces and grand-nieces and nephews. Mr. Auger was predeceased by his father, Francis, and sister, Susan.
Memorial contributions can be made to a charitable institution of your choice. Services are private.