Catherine S. Catchapaw
Written by

Submitted by family

Published in Obituaries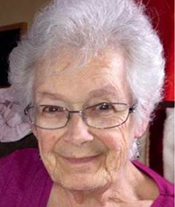 Catherine S. "Cathy" Catchapaw, 82, of Duxbury passed away peacefully at Woodridge Nursing Home in Berlin on Wednesday morning, July 5, 2017. Born in Rochester on February 23, 1935, she was the daughter of the late Fred and Ida Warren. On June 20, 1959, she married Richard L. Catchapaw Sr. in Waterbury Center.
Cathy was a 1956 graduate of Waterbury High School. Following her marriage, Cathy was happy and busy as a homemaker, raising her family and supporting her husband's service throughout his military career. Returning to Waterbury in 1966, Cathy was employed for many years in housekeeping services for the former Gateway Motel in Waterbury. She later worked for several years as a bus driver for Washington County Mental Health, was a personal caregiver to patients for Home Health and more recently she enjoyed working as a floral assistant at Proud Flower in Waterbury.
In addition to her work and family activities, Cathy was an active member of a number of Waterbury organizations that included Emerald Rebekah Lodge #33, Waterbury Grange #237, Waterbury Center Community Church, the Red Hat Society, the Busy Bees Christmas Club of Duxbury and a volunteer for the American Red Cross. In her leisure time she enjoyed crafts of all types, sewing, word search puzzles, working with flowers and coloring.
Cathy is loved and mourned by her husband of 58 years, Richard Catchapaw Sr. of Duxbury; their children, Sarah Touchette and her husband Jim of Waterbury Center, Robert Catchapaw and his wife Barb of Waterbury, and Richard Catchapaw Jr. and his wife Kim of Vergennes; eight grandchildren and four great-grandchildren; two sisters, Phyllis Grout of Waterbury Center and Norma Laline of Fair Haven; her feline best friend, Miss Molly; as well as nieces, nephews and extended family. Cathy was predeceased by six siblings, Rodney Swan, Wesley Swan, Royal Swan, Nora Swan, Arlene Swan Morse and Beverly Davis.
A service celebrating the life of Catherine Catchapaw will be held from Waterbury Center Community Church on Monday, July 10, 2017, at 11 a.m. with a reception to follow in the church dining room. For those who wish, memorial gifts in lieu of flowers would be appreciated to Freezing Fun for Families (www.freezingfunforfamilies.com), a Vermont-based nonprofit that offers financial support to Vermont families with a child battling cancer. Assisting the family is Perkins-Parker Funeral Home and Cremation service in Waterbury. To send online condolences please visit www.perkinsparker.com.