Betty J. Luce
Written by

Submitted by family

Published in Obituaries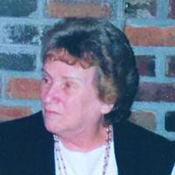 Betty J. Luce, 83, of Bridgeman Street, Barre, passed away on Saturday, June 24, 2017, at Berlin Health and Rehabilitation Center in Berlin.
Born September 8, 1933, in Fayston, she was the daughter of Theodore and Lucy (Peatman) Brothers. Betty attended Waitsfield Elementary School and graduated from Waitsfield High School with the Class of 1951.
On October 1, 1954, Betty married Randall E. Luce in Waitsfield and after their marriage they made their home in Barre. He died June 8, 2013.
Betty was employed by the state of Vermont for 44 ½ years in the tax department, education department and auditor's office retiring in September 2001.
In her spare time, she enjoyed summers in Island Pond at camp and time spent with family and friends.
Survivors include her two daughters, Monica Leadbetter and her husband Raymond of Monroe, NC, and Audrey Luce of Randolph Center; her granddaughters, Stacey Leadbetter and her partner Paul Thayer, Katy Leadbetter, all of Barre, and Kristy Dickinson and her husband Keith of Smyrna, TN; her great-grandsons, Cameron Cahill and Reese Thayer, both of Barre, and Justin and Ryan Dickinson of Smyrna, TN; her brother, Richard Brothers and his wife Mary of Warren; her sisters, Gussie Graves of Fayston, VT, and Norma Eurich of Rome, NY; as well as several cousins, nieces and nephews.
In addition to her husband, Randall E. Luce, she was predeceased by her parents and grandparents and brother Theodore who died in infancy.
The service to honor and celebrate her life will be held on Friday, June 30, 2017, at 1 p.m. at Hooker and Whitcomb Funeral Home, 7 Academy Street, Barre. Family and friends may call Thursday from 5 to 7 p.m.
Memorial contributions may be made to the charity of one's choice.