Karen Marie Fleming
Written by

Submitted by family

Published in Obituaries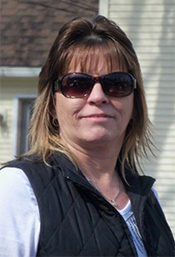 Karen Marie (Lefebvre) Fleming, 53, of Waterbury Center, passed away unexpectedly from injuries sustained in an automobile accident on June 15, 2017. Born on September 24, 1963, in St. Albans, she was the daughter of the late Raymond Johnson and Leona (Larmay) Lefebvre and became the stepdaughter of Fred Murray II. Karen was previously married to Gary Delphia and Brian Fleming.
Karen attended Bellows Free Academy in Fairfax and then went on to hold several jobs in Chittenden and Washington counties. She worked as a secretary for Delphia Construction in Waterbury, was a bartender at the Harry N. Cutting American Legion Post 59 in Waterbury, and most recently was a volunteer driver for Green Mountain Transit Authority in Berlin. Karen loved interacting with her children and grandchildren, going to flea markets, spending time at the beach at Sand Bar State Park and the Waterbury Reservoir as well as tending to her flower gardens. She was a member of the Waterbury American Legion.
Karen is loved and mourned by her son, David Delphia and his partner Taylor Fitzgerald of Waterbury Center; her daughter, Kasey Grout and her husband Kris of Duxbury; her stepchildren, Whitney Commo of Hardwick, Adam Commo of Waterbury and Liza Commo of Waterbury; 10 grandchildren, Isiah and Colby Liberty of So. Burlington, Camden Delphia of Waterbury, Alexis and Jacob Huckins of Duxbury, Shelby Grout of Barre, Jordan Grout of Moretown, Brian Grout of Duxbury, and Lucas and Mackenzie Ladieu, both of Waterbury Center; her siblings, Bobby Lefebvre and his partner Sherry May of Waterbury Center, William Lefebvre and his fiancée Stephanie Koch of Fairfax, Bruce Lefebvre and his wife Karen of St. Albans, Dawn Ryder of Grand Isle, Michael Murray and his wife Kathy of Fairfax, and Darlene Marrier and her husband Gary of Montgomery; as well as many nieces, nephews and extended family. Karen was predeceased by her parents, stepfather and stepbrother, Fred Murray III.
Memorial services will be held from the Waterbury American Legion, 16 Stowe Street, Waterbury, VT, on Friday, June 23, 2017, at 2 p.m. with a reception to follow. The family requests that in lieu of flowers, donations be considered to Green Mountain Transit Authority, Capital District, 6088 VT Route 12, Berlin, VT 05602.
Assisting the family is Perkins-Parker Funeral Home and Cremation Service in Waterbury. To send online condolences please visit www.perkinsparker.com.