Connie Jo Seymour
Written by

Submitted by family

Published in Obituaries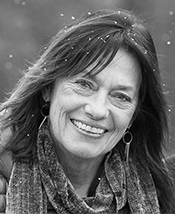 Connie Jo Seymour, 67, passed away on June 11, 2017, at home in South Duxbury, Vermont. After an extraordinarily strong, brave and courageous fight against brain cancer, she passed away peacefully surrounded by her loving family.
Connie was born on April 14, 1950, in Memphis, Tennessee, to George R. and Alice L. Johnson. Growing up the oldest of seven, Connie always stepped up and helped with her younger siblings, especially while her father was deployed with the U.S. Navy. After being stationed at various naval bases around the country, the family settled in Brunswick, ME, in 1964. When her mother went back to work as a civil servant for the Department of Defense, Connie had dinner on the table at "Johnsonville" (population 9!) most nights. She helped without being asked and still found time for school activities, especially cheerleading for the Brunswick Dragons.
After graduating from Brunswick High School, Connie went on to earn an associate degree from Becker College. Following graduation, Connie found her way to the Mad River Valley with friends in 1970. On a hot summer day in September 1971, Todd Seymour spotted her from across the pool at the Alpen Inn and the rest is history. They were married on December 30, 1975.
Throughout her life, Connie was an incredibly supportive, encouraging, loving, proud mother to her two daughters. She was always there for them, whether it was meeting them off the bus with her Morgan horse, Rocky, to give them a ride up the hill, attending the many sporting events and ski races, or welcoming them home when their own daughters and sons were born. She was a constant and present positive light in their lives and especially in the lives of her grandchildren who adored their "Mimi." Her enthusiasm and infectious positive energy carried over to all her family and friends.
Connie was a true lover of the outdoors and the magnificence of Mother Nature. Her happiness was found in the changing Vermont seasons, in the discovery of the first trilliums and lady slippers in spring, in her "secret" chanterelle patch in the woods, in a spectacular sunset, in a full moon cross-country ski on a winter night. She would continually be amazed at the various birds who visited her feeders and the wildlife that passed through. An avid gardener, Connie was content spending hours in her enormous, bountiful vegetable garden or working in her gorgeous flower gardens around her home. She had numerous passions including riding Ducatis with Todd, hiking in the Green Mountains, skiing at Mad River Glen, watercolors, music and riding her sweet horse, Red.
Connie's joy of travel and exploring brought her and Todd to many interesting places. Most Aprils (after a long winter and plowing season) they could be found in the Caribbean or on the island of Bequai in the Grenadines which they visited frequently. The slow pace and undeveloped little island held a special place in her heart. Summers brought them to Maine where she never tired of the bitterly cold Atlantic Ocean and beach at Small Point.
Connie was a lover of her many Newfoundlands over the years. Declaring that each one was the last, Todd would still convince her to get another. She leaves behind her sweet Ibo, who slept by her side every night while she was home in hospice care.
From the moment Connie was diagnosed with cancer, she never let it define her. She maintained an unwavering positive attitude and chose to carry on living her life fully. Connie never once complained and moved forward with grace, dignity and strength.
Connie leaves behind her loving husband of 42 years, Todd Seymour of Duxbury, Vermont; her daughter, Rachel Seymour and husband Mack Reynells with granddaughters Ella and Blue of Duxbury, Vermont; her daughter, Allison Reilly and husband Matt with grandsons Oliver and Charlie of Waitsfield, Vermont; her mother, Alice Johnson of Brunswick, Maine; her brothers, Mike "Hawkeye" Johnson and wife Debbie Madaris of Telluride, Colorado, Mark Johnson and wife Kathryn of Alexandria, Virginia, Greg Johnson and wife Amy of Durham, Maine, and Kevin Johnson and wife Tara of Maple Valley, Washington; and her one and only sister, Kimberly Fien and husband Robert of Floyds Knob, Indiana, along with many nieces and nephews. Connie is predeceased by her father, George Johnson, and younger brother, Cory Johnson.
Connie's ashes will be spread at her two favorite places in the world: up in the meadow at the favorite rock at her farm in South Duxbury and on the beaches of Small Point, Maine. There she will rest and eternally be at peace.
A celebration of life will be held on Sunday, July 30, 2017, at 2 p.m. at the Mad River Barn.