Jessica Ann Sherman
Written by

Submitted by family

Published in Obituaries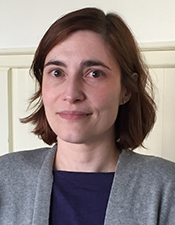 Jessica Ann Sherman passed away at her Fayston home surrounded by family on June 17, 2017, after a two-year battle with cancer. She was born February 6, 1971, in Astoria, Oregon, to Daniel William and Linda (Lemos) Sherman. After attending Star of the Sea School and Astoria High School, Jessica graduated in 1989 from Metropolitan Learning Center in Portland, Oregon. She attended Northwestern University in Evanston, Illinois, earning a bachelor of arts degree in medieval history.
At Northwestern, Jessica met Hapy Mayer of Warren, Vermont. They married on June 21, 1993, shortly after graduation, and moved to Vermont where they made their home for the past 24 years. An avid reader, Jessica amassed an eclectic library including World War II histories, historical fiction, Star Wars graphic novels and Tolkien esoterica. A great cook and food lover, she worked for Chapters Publishing and most recently as a freelance copy editor for Houghton Mifflin Harcourt Publishing, specializing in cookbooks. Over the years, she and Hapy welcomed numerous dogs and cats into their home, most of them rescue animals.
Along with her husband, Hapy, Jessica is mourned by her mother and stepfather, Linda and Louis Ornelas, brother, Matthew Sherman, and his wife, Lisa Morrell, all of Portland, Oregon; father, Daniel Sherman, and stepmother, Susan Santos, Lakewood, Colorado; sister, Sarah Sherman, Boulder, Colorado; sister, E Ornelas, Chicago, Illinois; stepsister, India Ornelas, Seattle, Washington; Hapy's parents, Don and Grace Mayer, Warren; several aunts, uncles, nieces and nephews. She is also missed by their devoted dogs, Madeline and Tako.
At Jessica's request, no service will be held. In lieu of flowers, the family suggests donations to Vermont Youth Conservation Corps, 1949 E. Main Street, Richmond, VT 05477, and Central Vermont Humane Society, P.O. Box 687, Montpelier, VT 05601 (centralvermonthumane.org). Assisting the family is Perkins-Parker Funeral Home and Cremation Service in Waterbury. To send online condolences please visit www.perkinsparker.com.