Mary Louise Vasseur
Written by

Submitted by family

Published in Obituaries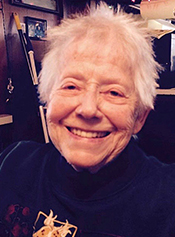 Mary Louise Vasseur, 86, a longtime resident of Fayston, passed away in the comfort of family on Saturday, June 10, 2017, at the Helen Porter Healthcare and Rehabilitation Center in Middlebury. Born on June 6, 1931, in Randolph, she was the daughter of the late Robert and Lucille (Litno) Delaney. On January 23, 1954, she married Albert J. Vasseur in Graniteville. Albert predeceased Mary on April 17, 1998.
Mary was a graduate of St. Michael's High School in Montpelier. She continued her education, attending the Mary Fletcher School of Nursing in Burlington, but was interrupted when Albert asked her to marry him and then, as they say, the rest was history. Together they enjoyed 44 years of marriage with Mary happy and busy as a homemaker and raising their two children, James and Tina. Mary later worked in housekeeping for the White Horse Inn in Fayston for several years.
Social and convivial, Mary enjoyed many years volunteering for the town clerk's office as a ballot clerk. In her leisure time, she was an avid gardener, loved to crochet and enjoyed puzzles of all types and varieties.
"She lived, laughed and loved. We will miss you forever, Nana."
Mary is survived by her daughter, Tina Marie Gray and her husband Danny of LaSalle, CO; her daughter-in-law, Karen Dean of Burlington; her grandchildren, Nathan Vasseur and his wife Caitlin, Ethan Vasseur and his fiancée Madison Fuller, Kim Burnett and her husband Jeremy, Nicole Vasseur and her companion Marcus Walker, Shane Gray and his companion Karenda Barker, and Tyler Gray and his companion Dominique Montgomery; 11 great-grandchildren; as well as nieces, nephews and extended family. Mary was predeceased by her son, James A. Vasseur, on September 20, 2001, and two brothers, Robert "Jake" Delaney and Michael Delaney.
The family wishes to thank the staff at Helen Porter Healthcare for their exceptional care of Mary, as well as their compassion and friendship.
A Mass of Christian Burial will be celebrated from Our Lady of the Snows Catholic Church in Waitsfield on Friday, June 16, 2017, at 11 a.m. Inurnment will follow the service in Bragg Hill Cemetery, Fayston. For those who wish, memorial gifts in lieu of flowers would be appreciated to the Mad River Valley Ambulance Service, P.O. Box 305, Waitsfield, VT 05673. Assisting the family is Perkins-Parker Funeral Home and Cremation Service in Waterbury. To send online condolences please visit www.perkinsparker.com.