Dona Linder Shook Egan
Written by

Submitted by family

Published in Obituaries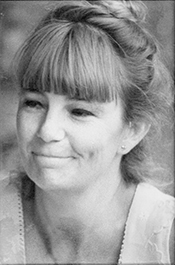 Dona Linder Shook Egan of Fayston was most definitely one of a kind, and in loving tribute to that indisputable fact, this will not be a normal obituary. Dona didn't like normal; it was boring. She shuffled quietly off the coil on Tuesday, June 6, 2017, at the UVM Medical Center, husband, son, daughter and brother at her side.
Dona was born July 8, 1941, in Chicago to Mississippi natives Blossom and Euclid Shook. The first six years of her life, her unhappy-with-the-big-city mother drove her round-trip almost every weekend from Chicago to Coahoma, Mississippi (595 miles each way) – no seat belts, no McDonald's, no interstates. That explains a lot right there. The family eventually moved to Weston, Connecticut, and after some college, Dona ended up in Manhattan. Three weeks later, her roommate said she had a friend from nearby Westport and they should meet.
So Dona showed up at her future husband Tony Egan's bachelor pad just off Central Park West on September 30 ,1962, for his first blind date in quite a while and she moved in that night. He never had a chance.
Six months later they were married and four years after that they moved to The Valley and had a son in the car at 20 degrees below zero somewhere between Middlesex and Montpelier at 100 mph. One of a kind to be sure. Volkswagen of America even sent a $100 savings bond. A daughter followed in a few years and when the 1973 oil crisis made Dona's home greenhouse scary expensive to heat, Blue Toad Houseplants was born on Glen View Road in Fayston. In the winter of 1975, her story was included in a Vermont Life feature article on home greenhouses. Three moves later the business settled in Village Square as The Blue Toad, a full-service flower and gift shop.
Dona was a through and through horse person riding out every week on her horse with the Green Mountain Hounds, a drag fox hunt formed in The Valley and Stowe in the 1970s. Dona served as the hunt's first secretary. She was also an early supporter of the Valley Players famously appearing in Cabin Fever Follies singing "Triplets" with Jennifer Howard and Freddie Mahlmann. But her most unforgettable appearance was as Domina screaming at her husband Senex (Sewall Williams) and cracking her 12-foot-long whip while singing "Everybody Ought to Have a Maid." A Funny Thing Happened on the Way to the Forum was indeed one of the Valley Players most memorable shows.
Dona was forever a little bit angry that two plus two always had to equal four. Eventually she accepted the reality, but she wasn't happy about it. She was quick, funny, loving, sharp, ironic, vocally opinionated, a watercolor artist, a great Chinese chef and a loving mother and wife. She loved riding in Ireland, driving in Scotland, walking in London, eating in Italy and sailing Penobscot Bay on the windjammer Grace Bailey.
She was predeceased by her younger brother, Jon; and will be sorely missed by her husband, Tony; son, Michael and his daughter Mila; daughter, Katherine Busch and her husband Dave and their children, Sam and Abby; and her brother, Alex Shook and his wife Barbara.
A memorial service and celebration of life will be held later this year during foliage season, Dona's favorite time of year.