Edward Everett Steele
Written by

Submitted by family

Published in Obituaries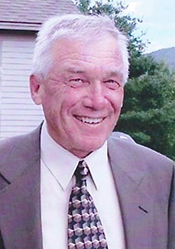 Edward Everett Steele, 80, longtime Waterbury businessman, developer and public servant, passed away in the comfort of his family on April 1, 2017, at Treasure Coast Hospice in Stuart, Florida, following a 10-year battle with COPD.
A lifelong resident of Waterbury, Ed graduated in 1955 from Waterbury High School where he was an outstanding basketball player, class and student council president and Boys State representative. He continued his education, graduating from Norwich University in 1959 where he maintained lifelong connections to the school and classmates. Ed married the former Karen Ann Kiarsis on April 16, 1966, in New Bedford, MA. Ed was the son of the late Everett Robert and Geraldine (Garvey) Steele.
Following college and with his military obligation fulfilled, Ed joined his father in the operation of the family business in Waterbury, Steele's Inc., providing heating, plumbing and propane services throughout the central Vermont region. Under Ed's stewardship, the business grew and was purchased by Green Mountain Power as they endeavored to expand their energy footprint.
Throughout Ed's business career he built and rehabilitated properties in Waterbury. A developer with vision and the innate ability to navigate the waters of local and state requirements, Ed's most significant project was the rehabilitation of the former Anderson Industrial area into what is now Pilgrim Park, a multi-use industrial complex that houses most notably Green Mountain Coffee Roasters, Vermont state offices and Dartmouth Journal Services.
Ed served his community as a member and chair of the Waterbury Select Board for 26 years. Under his leadership, Waterbury held the line on property taxes, improved infrastructure, negotiated to bring businesses such as Green Mountain Coffee Roasters, Ben & Jerry's and Karl Suss to Waterbury and guided the merging of the town and village municipal highway and fire departments.
During his long tenure on the select board, Ed led the Waterbury negotiations with the state of Vermont – Vermont State Hospital to secure a long-term agreement for "payment in lieu of taxes" along with a six-figure settlement for Waterbury from the state Agency of Transportation for the Park and Ride on Lincoln Street. His service to his community truly can't be summarized in a few paragraphs, but his impact will be felt in measured ways for years to come. Upon his retirement from the board, the town dedicated the new municipal highway facility in his name and he was the recipient of the Keith Wallace Community Service Award.
As successful as Ed has been throughout his professional life, he gave back to his community in a number of ways. Ed was a mentor to many local entrepreneurs, was generously philanthropic to his alma mater, Norwich University, and the town of Waterbury. The community was especially appreciative of his financial support of the new municipal complex, particularly the Steele Community Room and the Waterbury Historical Society.
An avid lifelong golfer, Ed enjoyed his membership at the Blush Hill Country Club and the Country Club of Vermont, both of Waterbury. His other memberships included the Harry N. Cutting American Legion Post 59 in Waterbury, the Vermont Propane Gas Dealers Association and Winooski Lodge 49 F&AM, and he was a 33rd degree Mason of the Shrine.
A Norwich man to the end, he was a general officer in the University's Partridge Society, a member of the Norwich University Alumni Association and a member of Norwich's Magnificent Class of 1959. A standout skier and basketball player for Norwich, he remained a lifelong fan and supporter of Norwich athletics.
Ed leaves his wife, Karen Steele of Waterbury and Palm City, Florida; daughter, Gretchen Steele, and her daughter, Emily, of Palm City, Florida; and son, Shawn Steele, and his daughter, Alexandra, of Smithfield, Virginia.
Services are being arranged through Perkins-Parker Funeral Home and Cremation Service in Waterbury and will be announced at a later date. For those who wish, memorial gifts would be appreciated to the Waterbury Historical Society, P.O. Box 708, Waterbury, VT 05676, or to Norwich University's Forging the Future Campaign, c/o Development Office, 158 Harmon Drive, Northfield, VT 05663. To send online condolences please visit www.perkinsparker.com.