Maydene Elizabeth Kellett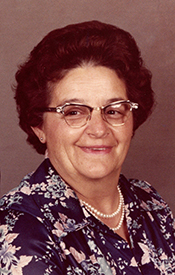 Maydene Elizabeth Kellett, 92, a lifelong resident of Waterbury Center, passed away peacefully at Maple Hill Residential Care Home in Waterbury on Friday morning, March 31, 2017. Born in Duxbury on July 10, 1924, she was the daughter of the late Winfield S. and Virginia (Pappineau) Durett. On October 18, 1943, she married Robert J. Kellett in Waterbury. Bob predeceased Maydene on November 25, 2013.
Maydene attended Waterbury High School and then, entering the workforce, was employed in manufacturing by Stoware Wood Products for several years. She later worked many years at the former Colby Nursing Home in Waterbury as a nurse's aide until its closing. After several years of employment at the former Super Duper Grocery Store in Waterbury, Maydene joined her sister-in-law, Marilyn Kellett, in founding the Kellett Kookie Kitchen Bakery on Maple Street in Waterbury Center. For many years they were well known in the greater central Vermont area for their delicious bakery goods, especially maple-glazed doughnuts, strawberry rhubarb pies and chocolate chip cookies. Following, Maydene worked in food service at Harwood Union High School in Duxbury from which she retired at the age of 77.
Her memberships included Waterbury Center Community Church and Waterbury Grange #237. In her leisure time she enjoyed knitting, fishing and hunting, snowmobiling and spending time at their camp on Holland Pond.
Maydene is survived by her children, Susan Gilbert and her husband Edmund of Eden and Stephen Kellett and his wife Mary of Milan, NH: six grandchildren and 15 great-grandchildren; a brother, Lester Durett and his wife Marge of Williston; as well as generations of nieces, nephews and extended family. Maydene was predeceased by two sisters, Lillian Boyce and Pearl Thurston, and four brothers, Earl Durett Sr., Milford Durett, Loren Durett and Winfield Durett.
It is Maydene's request that services be private for family. For those who wish, memorial gifts would be appreciated to Central Vermont Home Health and Hospice, 600 Granger Road, Barre, VT 05641 (www.cvhhh.org). Assisting the family is Perkins-Parker Funeral Home and Cremation Service in Waterbury. To send online condolences please visit www.perkinsparker.com.