Dayle Ann Smedy
Written by

Submitted by family

Published in Obituaries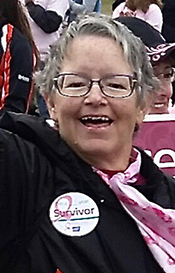 Dayle Ann Smedy, 59, known to her family as Annie, passed away in the comfort of her home and family, listening to her favorite music from the 1960s and '70s, on Wednesday evening, March 29, 2017. Born in Burlington on March 21, 1958, she was the daughter of the late Wendell T. and Bernice (Robinson) Dolloff. On March 1, 1980, she married Kenneth D. Smedy in Montpelier.
Dayle was a 1976 graduate of Harwood Union High School and then went on to have a long and successful career in the insurance business. Beginning her vocation at Denis, Ricker and Brown Inc. in Montpelier and then Hickok and Boardman Insurance Group in Stowe, Dayle has been employed for the past 18 years at Noyle W. Johnson Insurance in Montpelier where she assisted customers needing commercial insurance products. During her tenure there, she taught a variety of insurance classes and was a member of the National Association of Insurance Women. Her relationship with the Noyle Johnson Group extended far beyond employment; Dayle's peers were like family and were supportive in so many ways as she valiantly fought breast cancer over the past 10 years.
Dayle has worked hard to support women and their families as they face breast cancer. One of the ways was her committee membership of Making Strides of Northern Vermont, which she helped fundraise thousands of dollars, an achievement that she was most proud of. Dayle was also a member of the Green Mountain Community Alliance Church in Duxbury. In her leisure time she enjoyed following the Red Sox and Patriots as she waited for her true passion, the Boston Bruins. She is lovingly remembered for her love and devotion to her family and the joy she felt spending time with her daughter, Rachel.
Dayle is loved and mourned by her husband of 37 years, Kenneth Smedy of Barre Town; their daughter, Rachel Manz and her husband Matthew of Jericho; her sister, Cheryl Quesnel and her husband Wayne of Lakeland, FL; her brothers, Gary Dolloff and his wife Janet of Dade City, FL, and Charles Dolloff and his companion Marilyn Vanderhoof of Port Henry, NY; as well as nieces, nephews, extended family; and her beloved dogs, Zoey and Millie. A sister, Rosemary Nicholson, predeceased Dayle.
The family would like to extend their sincere appreciation to Dr. David Ospina, Elaine Owen and their staff for the care, compassion and support shown to Dayle.
Memorial services will be held from Green Mountain Community Alliance Church, 4987 Vermont Route 100, Duxbury, VT 05676, on Monday, April 3, 2017, at 4 p.m. with a reception to follow at the church. Memorial gifts in lieu of flowers would be appreciated to the American Cancer Society (memo: 2017 Making Strides of Northern Vermont), 55 Day Lane, Williston, VT 05495 (www.makingstrideswalk.org/northernvt). Assisting the family is Perkins-Parker Funeral Home and Cremation Service in Waterbury. To send online condolences please visit www.perkinsparker.com.