John (Jack) Howard Roth
Written by

Submitted by family

Published in Obituaries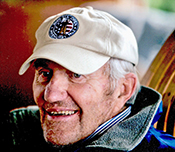 John (Jack) Howard Roth, age 86, of Warren, Vermont, died at home with family by his side on Saturday, March 25, 2017.
John was born in Rochester, Minnesota, on January 26, 1931. He graduated from the University of Minnesota, was a first lieutenant in the Army during the Korean War and spent his early adult years working as a land surveyor in California. He moved to Utah and worked as a ski patroller at Alta and met Virginia (Ginny) Papani in 1958 who was also ski bumming at Alta. They married on March 30, 1959, and they were to celebrate their 58th wedding anniversary this week.
They moved east and settled in the Mad River Valley in 1960. John is known in The Valley for his integral part in the evolution of Sugarbush and Sugarbush Village. He used his land surveyor skills to work closely with Damon Gadd and Jack Murphy to develop The Village trails, home sites and roads. His surveyor's stamp can be found on many building lots throughout The Valley, Sugarbush and Mad River. In 1961, he founded Roth Real Estate (RRE) and was the second real estate broker in town after Emma Ford. RRE continues to serve The Valley today. John was active in the community serving many years as a Warren planning commissioner and head of the Warren Cemetery Commission.
A jazz musician, classical music and opera aficionado and mentor to many, John's love of music from an early age led him from Carnegie Hall playing trombone in his high school jazz band to playing in 1950s swing bands with the likes of Sinatra and Dean Martin. At home in The Valley, he played his trombone at local celebrations, perhaps most known for leading an annual Christmas brass band joined by Dave Sellers, Malcolm Appleton, Bob Rose and Jim Herman or sitting in with the band on the Fourth of July on the Warren Store balcony. He loved playing music, conducting and singing with his family and friends (especially "The Twelve Days of Christmas" and Handel's "Messiah") and listening appreciatively to anything his wife, daughters and grandchildren played.
John was a man with a keen sense of humor and a gentle, nurturing demeanor, a lover of the out of doors and all that nature had to offer, a disciple of Henry David Thoreau, a natural athlete and graceful, classic powder skier, and devoted master to his two golden retrievers. He will be missed by all who had the good fortune to know him.
John is survived by his wife, Virginia (Ginny) Roth of Warren; his three daughters, Laurie Alta Roth of Scituate, MA, Lisa Roth Wasden of Larkspur, CA, and Maria Burfoot of Warren, VT; his five grandchildren, Olivia and Nicholas Bartlett, Mia and Abby Burfoot, and Theo Wasden; and his sons-in-law, Chris Burfoot and Kelly Wasden. His eldest grandchild, Jack Burfoot, preceded him in death in 2012.
The immediate family will have a private gathering and a public celebration of life will be held in May on a date and time to be announced. Memorial donations can be made in his memory to the Vermont Symphony Orchestra, 2 Church Street, Suite 3B, Burlington, VT 05401 (www.vso.org). Assisting the family is Perkins-Parker Funeral Home and Cremation Service in Waterbury. To send online condolences please visit www.perkinsparker.com.
To quote a parting phrase from one of John's favorite operas, Pagliacci: "La commedia è finita!"