Eleanor Bisbee Pratt
Written by

Submitted by family

Published in Obituaries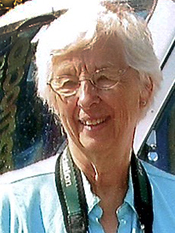 Eleanor Bisbee Pratt (Chris), 81, passed away peacefully at the Porter Medical Center in Middlebury on Monday, March 20, 2017. Born in Middlesex on August 29, 1935, she was the daughter of the late John Carroll Bisbee Jr. and Bernice (Reynolds) Bisbee. On July 7, 1956, she married Frederick Alcott Pratt in Moretown.
As a young bride, Chris joined her husband in Frankfurt, Germany, where he was stationed for two years in the U.S. Army. While there they discovered their enthusiasm for opera and love of travel, which led them to places as varied as the villages of Bavaria and the great cities of Munich and Vienna. In 1958, they returned to the U.S. and began their careers as teachers in Providence, RI. Whereas her husband was a classroom teacher of history and German, Chris gravitated to those with reading difficulties. This was an avocation for which she was especially suited, as she so enjoyed working with young students for whom she had a natural fondness and appreciation.
In 1981, Chris and her husband moved back to Vermont purchasing an old farmhouse previously belonging to Marceline and Ralph Bisbee. Tragically, that same year they lost their only daughter, Theresa, to an automobile accident. Their new home, their existing cabin on Ward Hill, her gardens and the beauty of Vermont all brought her solace. The return to Vermont also allowed Chris to devote significant time to her community, principally on the Duxbury Planning Commission and later as secretary-treasurer of the South Duxbury Cemetery Association, an endeavor that was particularly dear to her.
In 2001, Chris and her husband established an endowed scholarship at Tufts University in memory of their daughter, Theresa. This scholarship was designed to provide financial assistance to adult learners resuming their education after some period of interruption (birth of a child, military service, etc.). The appeal of such assistance was that it would help provide a second chance to someone who might otherwise not have been able to attend Tufts. This same impulse to help needy students led to the establishment of scholarships at Champlain College in Burlington, VT. These scholarships were specifically designed to help students who were first in their family to attend college. Currently, at least four students a year attend either Tufts or Champlain as a result of these scholarships.
Chris is perhaps best known as being the chauffeur for "Team Pipit," crisscrossing the U.S. numerous times while Fred stared intently through the passenger window scanning the horizon for some unseen rarity! This passion for birding also led to numerous trips abroad, including such places as England, Cyprus, South Africa and Costa Rica.
Chris is survived by her husband of 61 years, Frederick Pratt of Middlebury and formerly of South Duxbury; their son, John Pratt and his wife Maura of East Sandwich, MA; three grandchildren, Michael, Matthew and Brendan Pratt; a niece, Katherine Reece and her husband Doug of Royal Palm Beach, FL; a nephew, John Johnson and his wife Denise of Oldenburg, IN; as well as her neighbor and close friend, David Patterson of Duxbury. Chris was predeceased by a sister, Carolyn Johnson.
Services will be held privately for family. For those who wish to make memorial gifts, please make donations in her name to the charity of your choice. Assisting the family is Perkins-Parker Funeral Home and Cremation Service in Waterbury. To send online condolences please visit www.perkinsparker.com.