Nancy Eastman Aylward, RN
Written by

Submitted by family

Published in Obituaries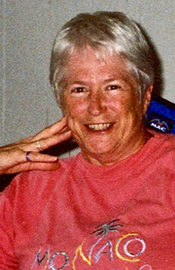 Nancy Eastman Aylward, RN, 75, passed away in the comfort of her home and family on Thursday morning, March 2, 2017. Born in Moretown on March 11, 1941, she was the daughter of the late Maurice G. and Beatrice (Seymour) Eastman. On July 8, 1961, she married Richard J. Aylward in Waterbury.
Nancy was a 1959 graduate of Waterbury High School and continued her education at the Mary Fletcher Hospital School of Nursing in Burlington where she earned her registered nursing degree in 1962. Busy and happy as a homemaker and raising her growing family, Nancy later began her nursing career working for the state of Vermont at the Vermont State Hospital in Waterbury. In 1995, she was employed by the Vermont Department of Health in Barre as a public health nurse where she worked for many years. Following, Nancy continued in the nursing field serving in several capacities: volunteering at the Red Cross blood bank, working part-time in the nurse's office at Thatcher Brook Primary School and as a substitute nurse at Crossett Brook Middle School and Harwood Union High School. In addition, she volunteered at the former Waterbury Elementary School and for the Waterbury Ambulance Service as a red phone operator.
After losing her son, Todd, to suicide in 2001, Nancy began an important journey in helping others who had lost a loved one. In 2002, she participated in an all night "Out of the Darkness" marathon walk in Washington, DC, to benefit the American Foundation for Suicide Prevention, joining thousands of people from all over the U.S. who had lost loved ones to suicide. She was a member of the American Foundation for Suicide Prevention – Vermont Chapter.
In her leisure time, she enjoyed visiting with friends, walking, knitting, reading, going to craft fairs and spending as much time as possible with her beloved family.
Nancy is loved and mourned by her husband of nearly 56 years, Richard Aylward of Duxbury; their children, Kimberly Aylward Jones and her husband Todd of Waterbury, Katie Aylward Tessier and her husband Alan of Duxbury, Darrin Aylward of Duxbury and Toby Aylward of Waterbury; 10 grandchildren, Kasey Jones, Garrett Jones, Michaela Lord, Megan Wells, Ridley Tessier, Aleena Tessier, Haley Aylward, Briana Aylward, Corey Aylward and Cassie Winters; four great-grandchildren, Kamryn Lord, Karlee Lord, Gracie Winters and Amos Winters; her beloved canine best friends, Charlie and Grady (Wiggle); as well as nieces, nephews and extended family. Nancy was predeceased by her son, Todd Aylward; two great-grandchildren, Jackson and Jasper Winters; two brothers, Albert "Bud" Eastman and Donald Eastman; and a sister, Lorraine Fava.
As it was Nancy's request, services will be privately held. For those who wish, memorial gifts would be appreciated to the Central Vermont Humane Society, P.O. Box 687, Montpelier, VT 05601 (www.centralvermonthumane.org), or Central Vermont Home Health and Hospice, 600 Granger Road, Barre, VT 05641 (www.cvhhh.org). Assisting the family is Perkins-Parker Funeral Home and Cremation Service. To send online condolences please visit www.perkinsparker.com.