Bernard A. Viens
Written by

Submitted by family

Published in Obituaries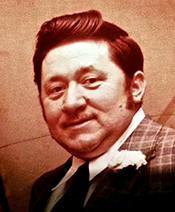 Bernard A. Viens, 79, a lifelong Mad River Valley resident, passed away at Central Vermont Medical Center in Berlin on Monday, February 6, 2017. Born in Moretown on February 20, 1937, he was the son of the late Leopold N. and Gertrude (Chouinard) Viens. On September 3, 1955, he married the former Grace Long in Waterbury.
Bernard attended Waitsfield High School and then, as a young man, worked first on the family farm in Moretown and then, following his marriage, farmed in East Warren. Later, Bernard was employed as a mechanic at the Sugarbush ski area and then worked several years as a carpenter for Pizzagalli Construction and Adams Construction. More recently, Bernard worked for the town of Fayston highway department from which he retired.
In his leisure time, Bernard enjoyed hunting and fishing and was known for his ability to tell a great story and will be lovingly remembered for the time he spent and love he shared with his grandchildren and their families. A longtime baseball fan, Bernard's love for the game began in his younger years playing for Waitsfield and continued as a Little League coach. An avid Red Sox fan, he enjoyed all the trials and triumphs of his beloved team. Bernard was also a member of the Vermont National Guard.
Bernard is loved and mourned by his wife of 61 years, Grace Viens of Waitsfield; their children, Denise Viens Kirkpatrick of Northfield, Christine Cooke of Waterbury Center, and Ernest Viens and his wife Susan of Barre Town; seven grandchildren and 11 great-grandchildren; a sister, Pauline Bombard of East Barre; three brothers, Richard E. Viens and his wife Jean of Shelton, CT, David P. Viens and his wife Cathy of Redwood, NY, Michael F. Viens and his wife Kathy of Winooski; as well as nieces, nephews and extended family. Bernard was predeceased by his brother, Peter Viens.
The family would like to express their deepest appreciation to the Mad River Valley Ambulance Service and Kevin Van Schaick for the kindness, compassion and wonderful care they have all provided.
Graveside services will be held from Mountain View Cemetery in Moretown this spring. For those who wish, memorial gifts would be appreciated to the Mad River Valley Ambulance Service, P.O. Box 305, Waitsfield, VT 05673. Assisting the family is Perkins-Parker Funeral Home and Cremation Service in Waterbury. To send online condolences please visit www.perkinsparker.com.