Ralph E. Walker
Written by

Submitted by family

Published in Obituaries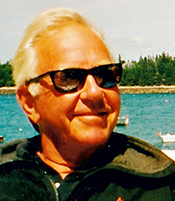 On Saturday, February 11, 2017, Ralph Edward Walker passed away peacefully at home surrounded by his family. He was born on March 26, 1934, in Brooklyn, NY, to Marie Strums Walker and Louis E.Walker of Forest Hills, NY.
Ralph is survived by his beloved wife, Helane (Steffens) Walker, and their four devoted sons, Glenn, William, John and James, and his loving daughters-in-law, Janice (Daue), Melissa (Walsh), Tiffany (Welsch) and Maureen (Brennan). He is survived by four loving grandchildren, Casey, Alissa, Torrance and Charles Walker. He is also survived by his beloved sister, Ruth Burnett of Naples, Florida, and his devoted first cousin, Gordon Stoddard, and his family of Port Jefferson, NY, as well as several nieces and nephews.
Ralph graduated from Culver Military Academy in Culver, IN, and State Maritime College in Fort Schuyler, NY, and held a master's degree of marine engineering from Rensselaer Polytechnic Institute, Troy, NY. Ralph was employed by the Charles Stark Draper Laboratory, an affiliate of MIT in Cambridge, MA. While at Draper he was the program manager of the Space Systems and Components and Space and Missiles Programs. He had previously been employed by General Electric, Dynamics Research Corp. and Northrop Grumman.
Sailing was his passion. For eight years he was an avid member of the Shields fleet in Marblehead and served as president for a number of years. He was a veteran of numerous Newport to Bermuda races and the Marblehead to Halifax race and enjoyed racing in Antigua and the islands. He sailed in many races as watch captain and navigator. He was a member of the Eastern Yacht Club in Marblehead for 29 years when he served on the race committee. Ralph also was a member of the Boston Yacht Club in Marblehead.
After retiring from racing he enjoyed cruising on his Tartan 42 Egret with which he and his wife visited many places along the East Coast and Canada. They also enjoyed cruising in the Caribbean visiting many of the islands. While living in California they would charter boats and enjoyed visiting the Channel Islands and other West Coast sites. Ralph and his wife also enjoyed cruising in Europe and spent a good deal of time along the coast of France and Spain.
Skiing was also a large part of Ralph's life and he was a member of the National Ski Patrol for 45 years. In 1991, the family built a home in Waitsfield, Vermont, where the entire family enjoyed the camaraderie of the home and skiing. He was an active member of the Valley Rotary and acted as chairman of a number of fundraising efforts.
A celebration of his life will be held this summer for family and friends.
In lieu of flowers, donations may be given to one of the first Hospice programs – Care Dimensions at 75 Sylvan Street Suite B-102, Danvers, MA 01923 – or the Michael J. Fox Foundation for Parkinson's Research.