Joshua S. 'Josh' Martin
Written by

Submitted by family

Published in Obituaries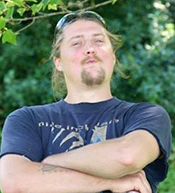 Joshua S. "Josh" Martin, 30, a lifelong Mad River Valley resident, passed away unexpectedly at University of Vermont Medical Center in Burlington on Monday, January 30, 2017. Born in Randolph on October 7, 1986, he was the son of Stanley E. Martin Jr. and Cherie R. (Stevens) Martin.
Josh attended Harwood Union High School in Duxbury and then pursued working in The Valley, cooking at places like Mad River Glen, Purple Moon Restaurant, American Flatbread and most recently for the Mad River Barn Inn and Restaurant.
On September 30, 2012, he married Kacie J. Dorohow in Warren. Together they created an amazing son, Jackson.
Joshua will be greatly missed by many who he met along so many different paths. He always was there for those he cared about with an ear, time or joke. We know we will miss his big hugs, twisted sense of humor and sarcasm.
Joshua's passion included playing computer games; from a young age he has been intrigued by computer programming. He had interest in gardening and cooking. The love of his son was priceless. Joshua Martin was an amazing father. He enjoyed hiking; with immense strength he could at anytime hike to the top of a mountain in record time.
Josh is survived by his parents, Stanley and Cherie Martin Jr. of Fayston; his wife, Kacie Dorohow, and his son, Jackson Martin, of Moretown; his brothers, Justin Elliott and Jason Martin, both of Fayston; his paternal grandmother, Elizabeth Martin of Waitsfield; his maternal grandfather, Wayne Stevens of Florida; as well as two nephews, Dominic and Damien Elliott; and his niece, Natalia Elliott; aunts, uncles and extended family. Josh was predeceased by a sister, Amie Wright.
A memorial reception to honor Josh's life will be held from the Fayston Town Hall on February 18, 2017, from 4 to 7 p.m. This will be the immediate gathering and at a later date, when weather is better, a goodbye send-off bonfire party is planned, the way Joshua Martin would have liked. For those who wish, memorial gifts in lieu of flowers would be appreciated to www.gofundme.com/fundraiser-for-jackson-martin or Mad River Valley Community Fund, P.O. Box 353, Waitsfield, VT 05673. Assisting the family is Perkins-Parker Funeral Home and Cremation Service in Waterbury. To send online condolences please visit www.perkinsparker.com.