Baird appeals sentence to Supreme Court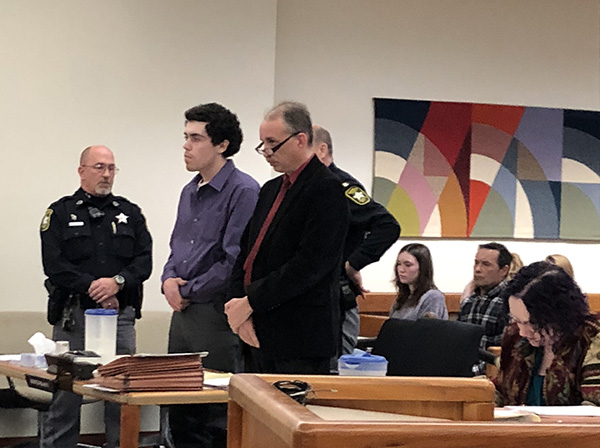 Andrew Baird IV, Waitsfield, is appealing his sentence of eight to 16 years in jail for his role in a car crash that left Lily Stilwell, Fayston, paralyzed from the waist down. He was charged with driving under the influence with serious bodily harm resulting and was sentenced on December 19, 2017.
Baird was sentenced in Washington County District Court by Judge H.E. VanBenthuysen on December 19 in a contested sentencing hearing after pleading guilty in a plea agreement two months prior.
Baird's attorney, James LaMonda, filed a notice of appeal on January 2, 2018. LaMonda noted that Baird entered a guilty plea on one of the four original charges and two violations of the conditions of his release. At the time of that October 10 plea bargain, the state agreed to argue for a capped sentence of eight to 16 years to serve and the defendant was able to argue for less, two to 10 years.
"Mr. Baird entered the pleas after a chambers conference was held in which the court indicated that it would accept such an agreement and would likely impose a sentence somewhere between the two requests," LaMonda wrote.
"At the sentencing hearing held on December 19, 2017, the court imposed almost the full sentence requested by the state, including an eight-year minimum. At the sentencing hearing the court issued oral findings into the record as it imposed its sentence, and failed to provide Mr. Baird the opportunity to challenge any of its findings, including findings that Mr. Baird acted intentionally during part of these events, findings that are not supported by the evidence," he wrote.
Baird and three others were charged in relationship to the October 14, 2016, car crash in Moretown. He and friends, including Stilwell, were drinking in Waitsfield. On the way home, Baird lost control of the car and it rolled. Stilwell was gravely injured during the accident and begged Baird to call 911. Two other friends, Jeremy Champney, Moretown, and Dakota Griswold, Waterbury, drove upon the scene of the accident and with Baird pulled Stilwell out of the car onto the side of the road and then lifted her again to put her into the other car and drove her to their home in Moretown. Only then was 911 called.
Stilwell was unresponsive by the time the ambulance arrived and her cervical spine was found to be broken in several places, according to the police report issued several days after the accident. After surgery and several months of rehab, she has use of her arms but is paralyzed from the waist down.
Griswold, Baird and Champney were all charged with reckless endangerment for failing to call 911 immediately on Stilwell's behalf, despite her pleading. AJ Wimble, Waitsfield, who supplied the alcohol to the others, all of whom were underage at the time, also faces multiple charges for supplying the alcohol. He is in jail pending his trial. Griswold's charges are also pending. Champney was sentenced in August to two years' probation and 90 days of house arrest.
At the sentencing Judge VanBenthuysen, using the words "egregious behavior" several times, made clear that deterrence was an important part of his sentence.
He said that the October 14 incident was not just an accident, noting the intentionality of Baird not calling 911 and the intentionality of moving Stilwell.
"The intentionality that makes this more egregious is your intention to hide the beer cans. You took a bad situation, a car crash, and you turned it into a life sentence for Lily," he told Baird.
Send comments/questions about this article to This email address is being protected from spambots. You need JavaScript enabled to view it..