Category: Sports
Created on Thursday, 13 February 2014 13:46
Last Updated on Thursday, 13 February 2014 13:46
Published Date
Written by VR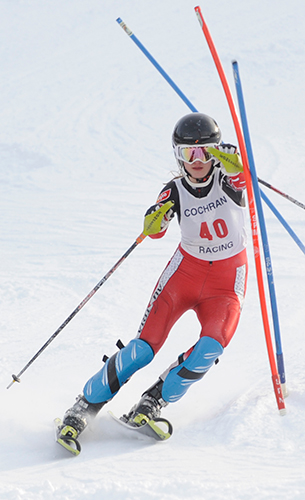 It has been a busy week for the Harwood alpine teams with three races in the past five days. Overall the team continues to produce solid results with many fine individual performances. On Thursday, February 6, Burlington hosted a two-run slalom at Cochran's. Leading the Harwood teams were Megan O'Shea and Taylor Austin, both with fifth-place finishes in a large field of close to 90 skiers in each race. Mercedes Woolley, 12th, Callie Anderson, 14th, and Sophie Dasaro, 16th, placed the Harwood girls in third overall in a field of nine teams. Also skiing for Harwood were Maddie Lowe, 25h, Sarah Wry, 25th, Piper Beilke, 27th, Anna Belongia, 30th, Maddie McGeorge, 31st, Isabella Harris, 35th, Lauren McMann, 38th, Jascha Herlihy, 39th, Ragan McMann, 43rd, Fiona Smith, 51st, Ashley McNeish, 56th, and Nina Brundage, 60th. For the Harwood boys' team Hobey Weston, 6th, Parker Herlihy, 8th, and John Egan, 13th, led the boys' team to a second- place result. Showing good team depth: Matt Crowell, 17th, Alec McGlynn, 29th, Ben Friedman, 30th, Wojciech Wyzomirski, 36th, Malcolm Purinton, 45th, Eugen Cleary, 76th, and Thibault Pelhat,e 77th.
On Saturday, February 8, the teams competed at Smuggler's Notch in a two-run giant slalom. In a field of nine teams, both Harwood teams placed third overall with a number of fine runs. Megan O'Shea took top honors overall placing first, with Sarah Wry, 7th, Sophie Dasaro, 11th, and Callie Anderson, 13th. The Harwood girls showed depth placing Maddie Lowe 16th, Ashley McNeish 20th, Mercedes Woolley 25th, Maddie McGeorge 27th, Ragan McMann 28th, Piper Beilke 29th and Anna Belongia 31st. The Harwood boys placed four skiers in the top 16 for an equally solid result. Austin Taylor, 5th, Hobey Weston, 11th, Matt Crowell, 13th, and John Egan all skied two solid runs. Parker Herlihy, 22nd, Wojciech Wyszomirski, 31st, Asah Whalen, 49th, Alec McGlynn, 56th, and Malcolm Purinton, 59th, all competed for Harwood.
On Monday, February 10, the teams headed to Burke Mountain for a two-run giant slalom. It was another good day for both teams with the Harwood boys placing second and the Harwood girls capturing top honors in a field of seven teams. John Egan led the boys' team with two solid runs to place seventh overall. Hobey Weston 8th, Austin Taylor, 10th, and Alec McGlynn, 12th, gave the boys another solid team finish. Harwood boys competing: Ben Friedman, 30th, Malcolm Purinton, 31st, Wojciech Wyszomirski, 33rd, Asah Whalen, 43rd, Thilbault Pelhate, 48th, and Eugene Cleary, 52nd.
The Harwood girls dominated the event with four scoring skiers in the top eight. Megan O'Shea, 3rd, Callie Anderson, 4th, Sarah Wry, 5th, and Sophie Dasaro, 8th, outscored the closest team by nearly 30 points. Harwood girls competing: Mercedes Woolley, 9th, Ragan McMann, 11th, Maddie Lowe, 12th, Ashley McNeish, 16th, Maddie McGeorge, 20th, Lauren McMann, 24th, Isabella Harris, 28th, Piper Beilke, 31st, Anna Belongia, 32nd, Fiona Smith, 35th, and Nina Brundage, 42nd.
The teams are off for about a week with the final regular season meet at Cochran's.