Category: Sports
Created on Thursday, 30 January 2014 11:20
Last Updated on Thursday, 30 January 2014 11:20
Published Date
Written by VR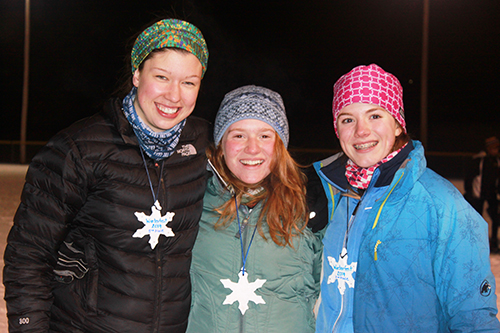 On Monday, the Highlanders traveled to Middlebury College and competed on their new multi-million-dollar snowmaking loop.
Harwood's Grace Butler led the girls' team to a surprising second-place finish in the 17-team field. Grace looked like she was on a tour the first lap and easily pulled away on the second lap and won by 30 seconds over Chloe Levins, an outstanding skier from Rutland High School. Grace was followed by upstart freshman Madeline "Mad Dog" Strasser in 4th and India Harvey in 12th.
Harwood boys placed an impressive fifth place in the 17-team field.
The young boys' team had a great pack that included freshman Noah Eckstein (17), Caleb Kessler (18) and Brennan Degen (28). Sophomore Phillip Hekeler was leading the entire pack the first kilometer of the race. However, after an opposing skier stepped on the tail of his ski, Phillip had a fall that pushed him way back in the pack. "I fought my way back halfway through the race and could see Caleb and Noah just ahead of me, but then I collided with another skier on a steep downhill. I guess it wasn't my day. But that's ski racing," said the gutsy Hekeler who finished in 35th place.
Harwood JV girls were led by Phoebe Pacheco (30) and Aenea Mead (41) in the 85-skier field.
Tyler Skroski (11) and Sophie Libby (12) led Harwood Middle School in the mixed boys' and girls' race. Crossett Brook MS girls Kyle Marie Hekeler placed 7th and Jordi Kulis placed 10th in the mixed MS race.
On Friday, Harwood skiers played host on the fields of Dac Rowe in Waterbury as part of the second annual Winterfest celebration. Harwood girls dominated by taking the first nine places in the race. The Highlanders were once again led by Grace Butler (1). Grace was followed by Madeline Strasser, India Harvey, Marla Davidson, Paige Gaylord, Sarah Hoyne, Anneka Williams, Charlotte Boyden, Alice Woodruff in places 2 through 9.
The boys' race came down to an exciting sprint to the finish between two Harwood skiers – freshman Noah Eckstein and senior Caleb Kessler. The frosh nipped his older teammate. Markus Helmken (4), Kyle Dash (6), first-year skier, Stefan Brecher (7) and Tim Harris placed (8).
Harwood skiers also dominated the JV race. Chloe Riven, Nicole Cutler and Kathryn Pilliod swept the first three places in the girls' race. First-year skier Emeric Rochford won his first race. He was followed closely by Colin Fennelly (2) and Bergen Allison (3) – also a first-year skier.
Harwood boys' MS skiers were led by Tyler Skroski (2) and Lucas Boyden (3). Harwood girls' MS skiers were led by Jordi Kulis (2) and Sophie Libby (3)
"It was an awesome way for our kids to celebrate winter," said coach Kerrigan. "We recognized Sam Nishi as the Gatorade winner and cheered each other on in the subzero temperatures." The team skied over to Zachary's for pizza after the race; it was a great team-bonding evening. Thanks to all the volunteers that were able to pull this race off with limited amounts of snow and to the Waterbury Winterfest people for providing a great opportunity for our skiers."
Harwood Nordic traveled to Craftsbury on Wednesday, January 29.