Category: Sports
Created on Thursday, 16 January 2014 11:51
Last Updated on Monday, 20 January 2014 15:13
Published Date
Written by VR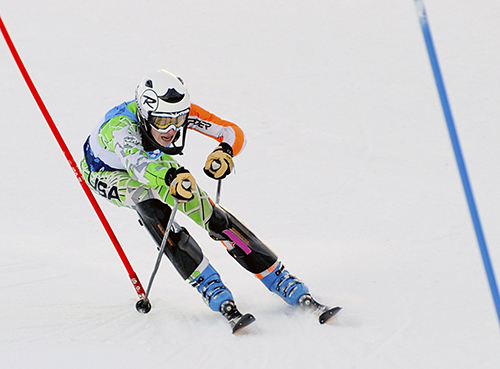 Harwood alpine results
On Thursday, January 9, the Harwood Union alpine teams competed at Cochran's in a nine-team meet hosted by MMU. The Cougar Cup is a two-run slalom, combining the boys' and girls' team scores to crown the winner. This year's winner, South Burlington, skied off by a wide margin in a competitive meet. For the Harwood teams the highlights of the meet were second-place finishes for Megan O'Shea and Hobey Weston. Overall the Harwood boys placed fourth, with the Harwood girls sixth.
Along with Weston's fine result, Matt Crowell skied two solid runs to place seventh overall. Malcolm Purinton placed 21st, Alec McGlynn was 22nd, Eugene Cleary came in 48th and Asah Whalen placed 49th and all scored for the team in the event.
O'Shea skied to the runners-up position, with "World Cup Snow Conditions" right here in Vermont. Placing for the Harwood girls were Callie Anderson in 21stplace, Amy Graham in 23rd, Maddie Lowe in 26th, Sophie Dasaro in 29th, Anna Belongia in 31st, Ashley McNeish in 35th, Mercedes Woolley in 35th, Laura McMann in 37th, Nina Brundage in 39th and Piper Beilke in 44th.
The teams head to the Middlebury College Snow Bowl on January 20 for a giant slalom competition.
Harwood Nordic explodes into the new year
Harwood Nordic is bursting at its seams. Over 60 skiers in grades 7 through 12 have joined the team. "This may double the maximum numbers in the boom years of the late '80s and early '90s," said coach and Harwood teacher John Kerrigan.
Despite the variable conditions Harwood Nordic has had good skiing on campus. "Our lower athletic field tips north and is also protected from the wind. This has allowed us to hold the snow. We must be one of the only Nordic teams in Vermont capable of skiing on their own back 40 (actually 186) since late November," Kerrigan said.
The Harwood team captains this year are Tim Harris and Markus Helmken on the boys' side and Grace Butler and India Harvey are the girls' captains. All the captains are seniors and are as surprised as Kerrigan by the increased numbers.
"We have over 25 girls on the team this year and we are having a blast," said Butler.
Kerrigan thinks this may be his most competitive girls' team since the Caitlin Compton days. The 1998 graduate and 2010 Olympian-Vancouver is on the verge of qualifying for her second Olympic team.
The boys' team is a mix of youth and experience. In addition to seniors Helmken and Harris, senior Brennan Degen, sophomores Kyle Dash and Phillip Hekeler and freshman Noah Eckstein give the Highlanders a solid mixed-age team.
On the girls' side freshmen Madeline Strasser, Anneka Williams and Chloe Riven have impressed Kerrigan during the early season. Sophomore Charlotte Boyden returns after having an impressive freshman year. Seniors Marla Davidson, Paige Gaylord, Sarah Hoyne, Libby Morehouse and Nina Cavender give the Highlanders added depth and experience. Newcomer Olivia Greenleaf is also off to a good start.
The Harwood Nordic coaching staff has also expanded. Tom Strasser has moved up from the middle school program and is now co-coaching with Kerrigan. "Kurt Hekeler is a parent volunteer who has taken on the role of waxing and has helped repair skis and kept our 1980s, vintage, Lenord Robinson-donated skidoos in working condition," Kerrigan said. Tara Cariano is the new middle school coach. "She is new to the sport but is learning real fast," said Kerrigan.
SLIDESHOW- Click image below to start
Harwood Nordic results – boys and girls take first
The hills were alive with the sound of fast skis attached to the boots of Harwood male and female Nordic skiers as they scored impressive victories at the Trapp Touring center on Thursday, January 9.
Harwood boys' and girls' Nordic teams started off the new year with resounding victories over CVU, North Country, Stowe, St. Johnsbury, Lyndon, Craftsbury and Montpelier.
The Harwood boys used a blending of youth and experience to earn victory in their first race of the new year. The Harwood boys were led by sophomore Phillip Hekeler, who placed seventh. Hekeler was followed closely by freshman Noah Eckstein (8) and seniors Caleb Kessler (10), Brennan Degen (14) and Markus Helmken (18).
Harwood girls were led by senior co-captain Grace Butler who took second place. Grace was followed by freshman sensation Madeline Strasser in fourth place. India Harvey (8), Marla Davidson (14), Sarah Hoyne (15), freshman Anneka Williams (18) and Paige Gaylord (19) added to the great depth of the Highlander girls.
Harwood middle-schoolers were equally impressive. Tyler Skroski, Lucas Boyden and Seth Davidson swept the top three positions in the MS boys' race. Kyle Hekeler, Jordan Kulis and Sophie Libby went 1, 2, 3, respectively, in the girls' MS race.
Nicole Cutler (6), Phoebe Pacheco (7), Molly Ferguson (8) and Aenea Mead (10) led the Harwood JV girls.