Category: Sports
Created on Thursday, 09 January 2014 12:35
Last Updated on Thursday, 09 January 2014 12:35
Published Date
Written by VR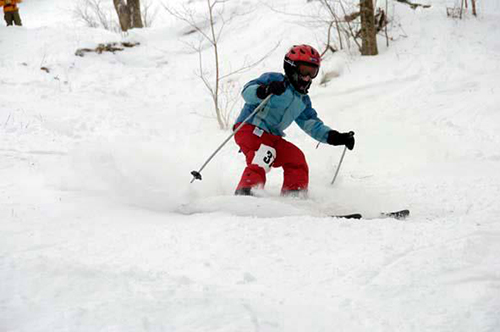 The Mad River Glen Junior Unconventional Terrain takes place on Saturday, January 11. This competition is open to skiers age 15 and under and gives them the opportunity to show off their skills on the toughest of Mad River Glen's terrain.
The Junior Unconventional Terrain competition is a test of young skier's ability to conquer Mad River Glen's expert terrain. This is also a qualifying event for the Ski the East Freeride Tour with the top 10 skiers qualifying for the tour events. This includes the Mad River Glen Triple Crown Unconventional Terrain Competition slated to take place on February 22.
Each competitor gets one run to rip up the course and impress the judges. Scores will be compiled based on two sets of criteria: control and aggressiveness of line. Two banks of judges will line the course and compile the overall score of each competitor. The venue for the event will be determined later in the week after organizers assess the snow conditions on the mountain.
Skiers interested in competing in the Junior Unconventional Terrain can register online at www.madriverglen.com. Prize categories for competitors will be broken down based upon age and gender. The number of starting slots is limited so skiers are encouraged to register online.
Bib pickup and day-of registration will take place in General Stark's Pub on the main floor of the Basebox Lodge from 8 to 9 a.m. with the contest kicking off at 11 a.m. The Junior Unconventional Terrain Competition is the first leg of Mad River's Junior Triple Crown competition series. The series continues with the Junior Mogul Challenge on February 15 and the Vertical Challenge on February 28.