Category: Sports
Created on Thursday, 05 December 2013 10:48
Last Updated on Thursday, 05 December 2013 10:48
Published Date
Written by VR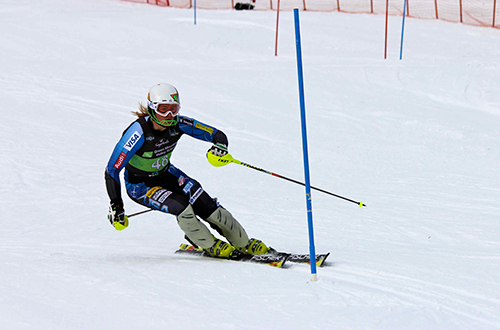 On Sunday, December 1, Green Mountain Valley School (GMVS) hosted the first USSA race in the eastern U.S. at Kelly Brush Race Arena on Sugarbush's Mt. Ellen. Approximately 90 athletes from all over the state, including three local GMVS graduates who are currently on the United States Ski Team, AJ Ginnis, Danny Duffy and Drew Duffy, competed in the slalom event. Running a race over the Thanksgiving holiday weekend is a historic first for GMVS. "Recent capital improvements to the snowmaking system at Mount Ellen, wildly favorable temperatures in the past two weeks and great cooperation and effort from our partners at Sugarbush Resort – Inverness is covered top to bottom, race and train ready, at the earliest date in history," says GMVS alpine director Steve Utter.
Top 10 Girls
The top 10 girl finishers in order of rank were: Kara Gailunas, GMVS; Hannah Utter, GMVS; Michelle Connacher, MMSC; Ellie Curtis GMVS; Courtney Hayden, MMSC; Sandra Schoepke, MSSC; Lara Lathrop, SMS; Eklutna Kenney, GMVS; Lauren Stobierski, MMSC; and Katie Campbell, GMVS.
Top 10 Boys
The top 10 boy finishers in order of rank were: Alexander Ginnis, USST; Danny Duffy, USST; Drew Duffy, USST; David Frisk, GMVS; Logan Slattery, GMVS; Spencer Smith, SMS; Neil Gallagher, GMVS; P Finn McNamara, SMS; James Marshall, MMSC; and Henry Anderson, IND.