Category: Sports
Created on Thursday, 05 December 2013 10:39
Last Updated on Thursday, 05 December 2013 10:39
Published Date
Written by VR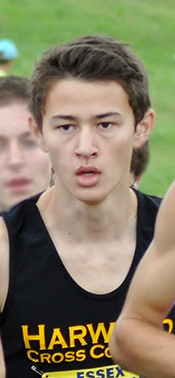 Sam Nishi, a junior on the Harwood cross-country team, ended his already stellar season with a brilliant finish at the Footlocker Northeast Championships held in Van Cortland Park in the Bronx, NY.
The Footlocker Race serves as a qualifier for the National Championships. Nishi competed in the Northeast race. The Northeast Footlocker race includes runners from Maine to Maryland. The top 10 finishers receive an all-expense-paid trip to San Diego to compete at the National Footlocker Championships to be held on December 7 in Balboa Park, San Diego.
"Sam represented us well," said Harwood cross-country coach John Kerrigan.
"Nishi came through at the one-mile mark at 4:53 and continued to move up in the back in the hilly section of the course. He was the ninth best finisher from New England, bettering his 19th position at the New England Championships held on November 9 in Manchester, NH. Mickey Burker from Henrietta, NY, was this year's winner. Only two other NY runners beat Sam. Sam's time of 16:24.8 placed him ninth among underclassmen from the entire Northeast. Sam's friend and training partner, Jacob Palmerio, finished 150 in the 200-plus runner field," Kerrigan said.
"I am already looking forward to next year's race," said the 16-year-old Harwood honor student. "This race helped give me the confidence I need to run with the best."