Category: Sports
Created on Thursday, 31 October 2013 16:37
Last Updated on Thursday, 31 October 2013 16:37
Published Date
Written by jkvt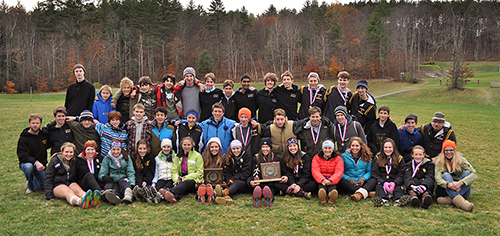 The Harwood cross-country teams had a storybook finish at the Vermont Division 2 state meet on Saturday, October 26.
Both boys' and girls' teams easily outdistanced their closest rivals. The boys scored 20 points (placing five boys in the top seven), just missing a perfect score of 15 points. They beat their nearest rival by over 35 points. The girls placed five runners in the top 11. They beat rival Woodstock by 32 points.
"It was a magical ending of four wonderful years with most of these runners," said John Kerrigan, Harwood coach. For the HU girls it was the fifth straight state title. For boys, the third in a row and the sixth in the last seven years. Harwood cross-country teams have now won 20 state titles during Kerrigan's 35-year tenure.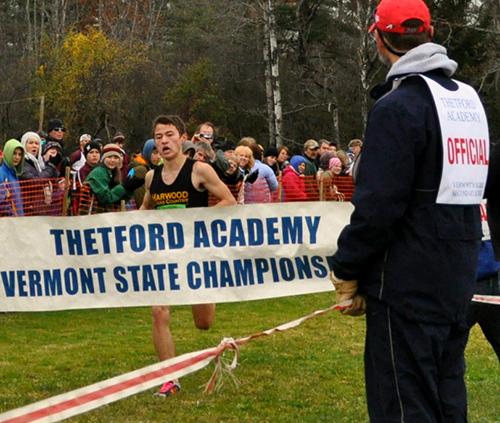 Individually, Sam Nishi ran away from his nearest rival by 20 seconds to win the Division 2 state title. Sam's time was less than a second behind the Division 1 winner, Sidi Abdoulaye, a native of Mali, Africa, who runs for South Burlington. Nishi becomes only the fourth Harwood boy to win the Vermont State Championship. Eric Morse won in 1981 and 1982. Bruce Hyde won in 1999 and Tim Shepard in 2009. "Nishi is now in the company of running legends," said Kerrigan.
"Eric and Bruce were two of only four Vermonters that went on to break 4:00 in the mile. The future looks bright for Nishi; the Harwood junior is also an outstanding student," he added.
Nishi received strong backup from his team. Geoffrey Kazlow (3), Nathanael Kuzio (4), Nathaniel Kazlow (5), Caleb Kessler (7), Jacob Palmerio (14) and Noah Evans (33) all solidified the Harwood win. Having Geoffrey, Kuzio and Nathaniel go 3, 4 and 5 was huge," Kerrigan said, noting that "Caleb is nursing an injury and also ran tough."
Harwood girls were fired up after watching the boys' victory. They were supposed to be pressed by an outstanding Woodstock team. Early in the race, it looked like Woodstock would upset the four-time champion Highlanders as they ran one and two the first 4k of the 5k race.
"When I saw Grace Butler pass Lindsey (Lindsey Stuntz of Woodstock) on the top of Morty's Monster for second place, I knew it was ours," said Kerrigan.
Grace's efforts were supported by Ellie Ramsey (4), Marla Davidson (7), Alice Woodruff (10), Charlotte Boyden (11), India Harvey (14) and Sophie Dasaro (34).
"Marla is always solid. Ellie surprised me. Due to an illness, Ellie has not been at her best for the past two weeks. Ellie seems to always be up for the big meets, and this was a big meet! She really came through today," Kerrigan said.
"Our biggest surprise was Alice Woodruff. I saw her jump about two feet vertically in midstride at about the one-mile mark. I knew something was wrong! Was it a hamstring, sprained ankle? I didn't know. I thought she was gone. I yelled at the others that they had to step it up. Next time I see Alice at the 2.5-mile mark she is running with one shoe. I caught her again at the top of Morty's and told her that shoes are overrated, that she did not need two to finish. She ended a remarkable 10th. Must be the state record for running with one shoe," the coach recounted.
"It turns out a sharp piece of shale penetrated the sole of her shoe sending sharp pain all the way up her leg. The rock may have pierced the thin sole of her running shoe but not the much thicker soul she has displayed as our team leader and co- captain. Nothing was going to get in Alice's way of helping her teammates to victory," he added.
Harwood had some outstanding finishes in the JV races. Aenea Mead, Lily Clark, Madeline Strasser and Nicole Cutler went one, two three and five for Division 2 runners. Seniors Shelby Parette (8), Nina Cavender (11) and Libby Morehouse (15) ended their careers with strong races.
Harwood JV boys were equally impressive. Nathan Palmerio, Colin Fennelly, Enzo Cormier and Brennan Degen swept the first four places in the Division 2 section of the Challenge race. Sam Robinson (8) finished off his last race in spectacular fashion. Sophomore Kyle dash showed a lot of character. After sustaining an awful fall in the first 400 meters he managed to continue on to a solid ninth-place finish.
Both Harwood boys' and girls' teams have qualified for the New England Championships, which will take place on November 9 at Derryfield Park in Manchester, New Hampshire.