Category: Sports
Created on Thursday, 17 October 2013 12:21
Last Updated on Thursday, 17 October 2013 12:30
Published Date
Written by VR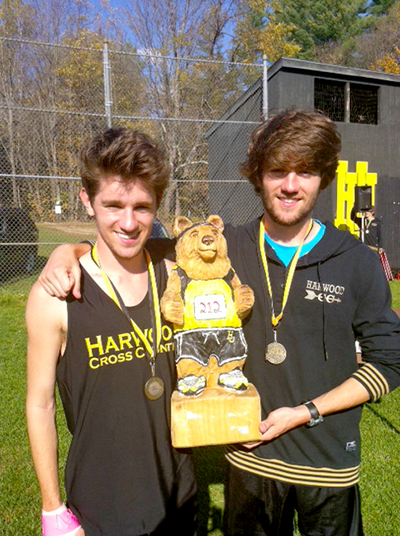 The Highlander cross-country trails swarmed with over 1,000 runners and spectators last Saturday, October 11. The Harwood cross-country team hosted the 26th annual Harwood Co-Ed Harwood XC Invitational.
The meet is unique in that both boys' and girls' scores are added together for one score. "Our kids love this meet because it is a true reflection of our team. All of our runners, regardless of whether they are boys or girls, regardless of their age or ability, all run together during practices. There is nothing better than the suffering of long-distance training that can bring individuals together. We are one team," said coach John Kerrigan.
It has become tradition for the winning team to hoist a woodcarving of Hannah the Bear into the air after the race. The winning team has their school name engraved onto the base of the bear. This tradition began in 2010 when Coach Kerrigan was informed that a mother bear and her two cubs were seen on the Harwood trails. The Harwood administration decided for safety reasons it would be best to shut down all of the trails until the bears were no longer a threat. Three weeks after the initial sighting. A bow hunter shot and killed the mother bear (named Hannah by the Harwood girls' team). Hannah was killed with an arrow while her two young cubs looked on. In memory of Hannah and her family the painted woodcarving of Hannah dressed in a Harwood cross-country uniform is awarded to the Co-Ed team winner.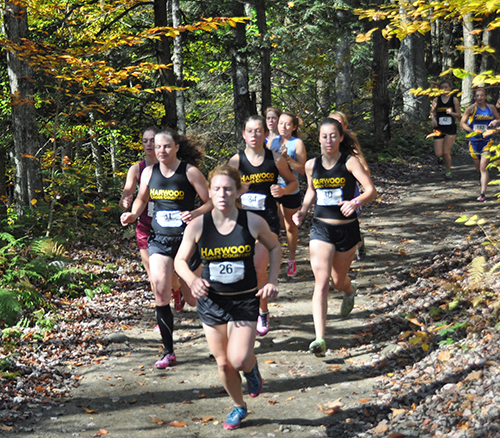 Many local fans finally got the chance to view the Harwood cross-country runners in action. They have been reading about their success on Long Island, in Maine and New Hampshire. Those that came out to watch the team were not disappointed.
The Harwood boys started the day by sweeping the first five positions in the varsity race. The first four boys broke the old course record of 17:50 set by Harwood's Geoffrey Kazlow in 2012. Sam Nishi continued his dominance winning in a time of 17:02. He was closely followed by Nordic skier/runner Nathanael Kuzio in 17:21. Geoffrey Kazlow, Caleb Kessler and Nathaniel Kazlow quickly followed. Harwood's sixth man, Jacob Palmerio, tried his hardest to make it a straight six, by doing his best to fight off all of the other non-Harwood runners. The Harwood junior was nipped at the finish by Milton's Alex Lauzon for seventh place. Harwood's seventh man, Noah Evans, finished just outside the top 10 (11th place).
Harwood girls were equally impressive. Grace Butler continued her dominance winning the girls' race by 40 seconds over Haddie Lary of Randolph. Harwood's Marla Davidson out-kicked two runners at the finish for third place. "Marla's mad dash to the finish got the home crowd going," said coach Kerrigan. Marla was followed by the quickly improving Alice Woodruff (6th), sophomore Charlotte Boyden (8th), India Harvey (9th), (13) Ellie Ramsey and Sophie Dasaro (17) in the 50-runner field.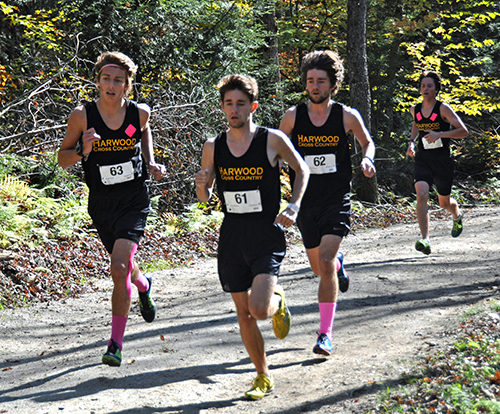 Harwood boys' JV also dominated a race that had a combination of both JV and Division 3 varsity runners from several high schools: Nathan Palmerio (4), Colin Fennelly (5), Enzo Cormier (6), Kyle Dash (7), Eli Winters (9) and Sam Robinson (10). Harwood's JV boys finished a close second to the Rice varsity boys' team.
Harwood JV girls were led by Lily Clark (8th), Madeline Strasser (13) and Aenea Mead (15). Seniors Shelby Parette (17) and Nina Cavender (18) ran with the emotion of knowing this was their last race at Harwood. "They probably had their best races of the season," said the coach. Freshman Nicole Cutler also cracked the top 20, giving Harwood JV girls second place to the Rice varsity.
Harwood boys and girls are next up at the Mountain Division Championships to be held at U-32, October 19.